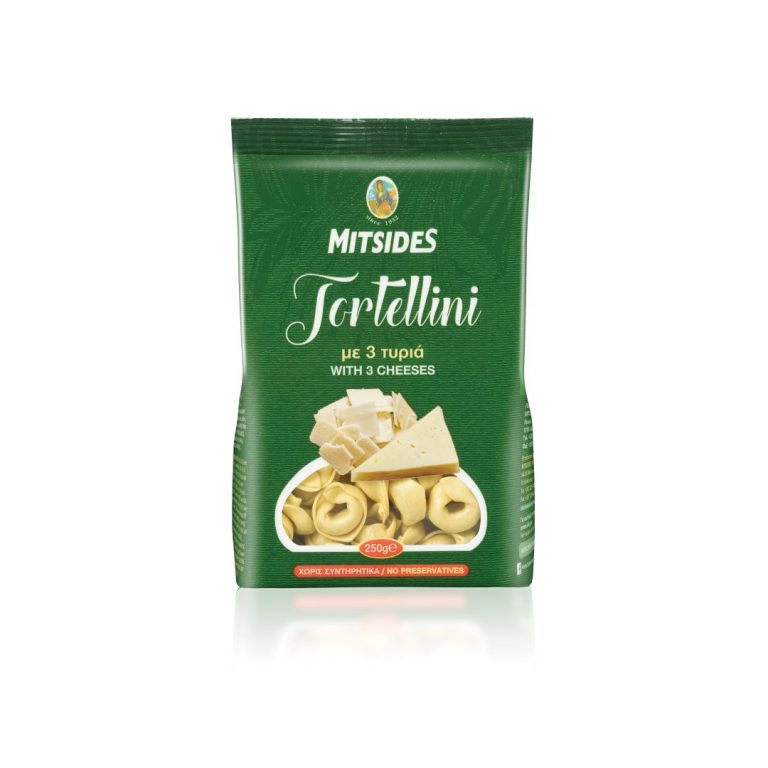 Pasta (72%): Durum wheat semolina, eggs (19,4% of pasta). Filling (28%): Breadcrumbs (wheat flour, salt), assorted cheeses (33% of filling) [melted cheese powder (milk, whey milk, salt, enzymes), ricotta (8,2%) (whey milk, salt), Pecorino Romano DOP (2%)(sheep's milk, salt, rennet), Grana Padano DOP (2%)( milk, salt, rennet, lysozyme from egg)], vegetable margarine (coconut fat, sunflower oil, water), salt, flavourings, spices.
Allergens: Gluten, milk protein, egg protein. May contain traces of soy.
NO ARTIFICIAL PRESERVATIVES, COLOURS OR FLAVOURINGS ● NO MSG
STORAGE: Store in a cool and dry place. NEVER IN A REFRIGERATOR
COOKING INSTRUCTIONS: Drop the tortellini in plenty of boiling, lightly salted water or stock and cook over low heat for about 14 minutes, stirring occasionally. Drain and serve. Do not overcook.
NUTRITION
NUTRITIONAL VALUES per 100g
Energy: 1668KJ /396Kcal
Fat: 9,5g (of which saturated: 4,8g)
Carbohydrate: 63,0g (of which sugars: 2,5g)
Fibre: 2.6g
Protein: 13,2g
Salt: 1,9g