Goat Cheese, Corn, Basil and Cherry Tomato Pasta Salad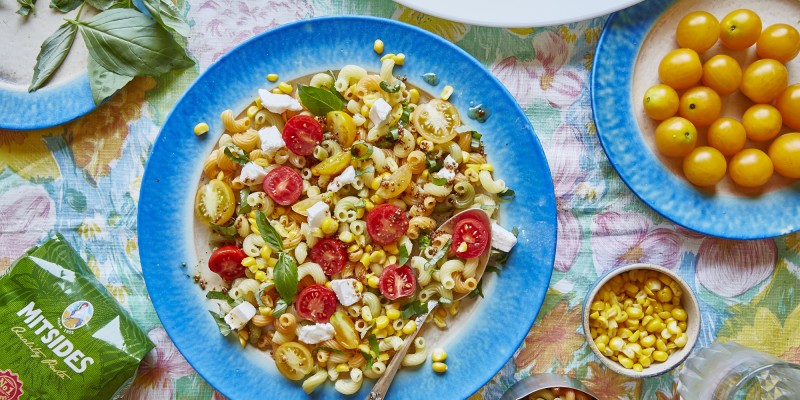 1 cup Mitsides Tricolore Shrimps, boiled until al dente

1 corn, kernels shaved off

2 tablespoons goat cheese, in small pieces

10 cherry tomatoes, diced in half

2 tablespoons fresh basil, finely chopped

chicken broth for boiling the pasta in

1 tablespoon grainy mustard

1 tablespoon honey

1 tablespoon apple cider vinegar

salt and pepper to taste
1. Make the dressing by mixing the mustard, honey and apple cider vinegar together in a small bowl.  I didn't need any salt, because the broth I boiled my pasta in was salty enough.
2. Boil a pot of water on the stove. Add the corn kernels and boil for 5 minutes. Remove the corn with a strainer and immediately dunk the corn into cold water. Remove the corn from the cold water and let cool.
3. Add a chicken stock cube to the water in which the corn was boiled. Add the pasta and boil the pasta until it is al dente. Remove the pasta, and drizzle a little olive oil over top just to ensure it doesn't stick and let the pasta cool.
4. Just before serving, assemble the salad. Add together the basil, cherry tomatoes, goat cheese, pasta and corn. Toss together with the dressing and serve. If you wish the salad to be served very cold, simply make the corn and the pasta the day before. Store the pasta and corn in the fridge until the next day and assemble the pasta then.