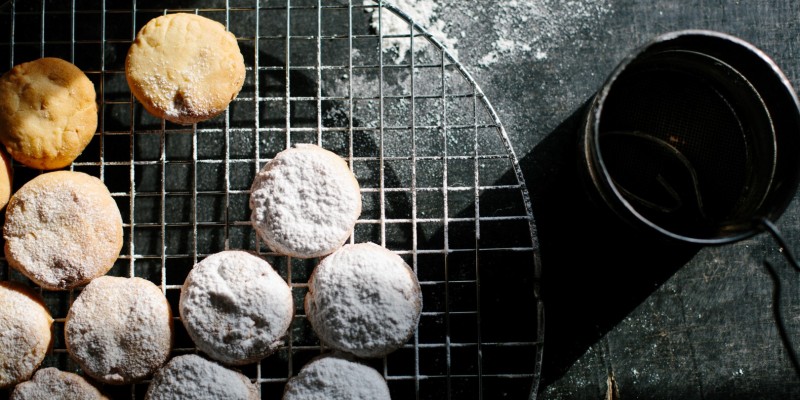 Category:
Pastries & Sweets
1.5 cups butter
3/4 cup powdered sugar
1 egg yolk
1& 1/4 tbs brandy
1/2 tsp liquid vanilla extract
1 & 1/3 cups coarsely chopped roasted almonds
roughly 3-4 cups Mitsides All Purpose Flour (or less or more flour as is needed per the instructions below)
1. Preheat the oven to 176C.
 
2. With a mixer (or hand mixer) beat the butter and icing sugar together for about 10 minutes, until the butter turns a light yellow colour.
 
3. Continue to mix and add the egg yolks. When the egg yolks have been incorporated, add the brandy. Continue to mix well incorporated, about another 5 minutes.
 
4. In a large bowl, add your vanilla and nuts. Then add the butter mixture. Begin to mix with your hand, adding the flour, 1/2 cup at a time. Continue to mix with your hands. The mixture will be very sticky at the beginning, but should become less sticky as you add more flour. Continue to add flour until the mixture holds together and does not stick to your hands.
 
5. Roll out the dough with a rolling pin. Do not work the dough too much, as this is not good for the cookies. With a cookie cutter, cut out shapes from the dough.
 
6. Place the cookies on a baking sheet. Place in the oven for about 20 to 22 minutes. The cookies should be a very light golden brown colour.
 
7. Remove the cookies from the oven and let cool.
 
8. Sprinkle powdered sugar on top to cover the cookies and enjoy!