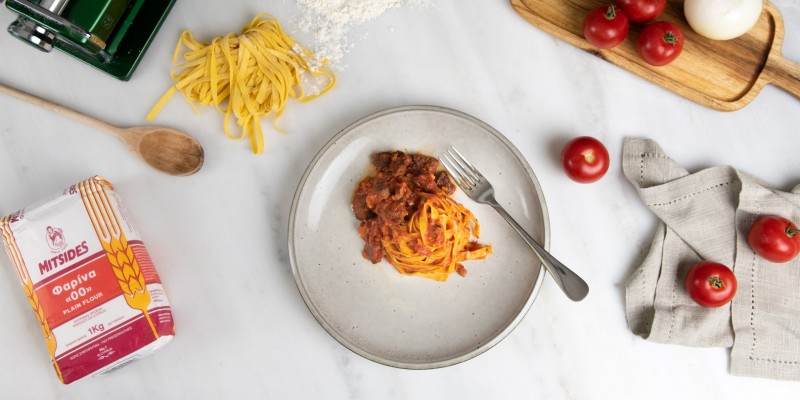 Category:
Breads & Doughs
|
Vegetarian
300g Mitsides plain flour
3 eggs & 1 egg yolk
Extra flour to sprinkle  
Place the flour in a mound on a flat surface.  Using your fingers or a spoon create a well in the middle of the flour mound.  Add the eggs in the centre of the well.  Use a fork to begin whisking the eggs. Once combined, begin gradually whisking some of the surrounding flour into the egg mixture, adding more and more until the egg mixture is nice and thick.  Then use your hands to fold the rest of the dough together until combined. Knead the dough for about 10 minutes until soft.
 
Form the dough into a ball, wrap tightly in plastic wrap and let the dough rest at room temperature for 30 minutes. Once the dough has rested, remove it from the plastic wrap and using a knife cut the dough into two equal parts.
 
Using your hands, shape the dough wedge into an oval-shaped flat disc.  Feed the dough through the pasta maker on the widest setting. Once the sheet comes out, feed it through the rollers 2 or 3 more times, until the dough reaches your desired thickness. 
Once your dough sheet is ready, sprinkle it with flour once more.  Then connect the cutter attachment to your pasta maker.  Feed the sheet through the attachment to create your desired shape of pasta. Cook immediately for 4 mins in boiling salted water or stock and serve with the sauce of your preference.