Mrs Lenia's oven baked Halva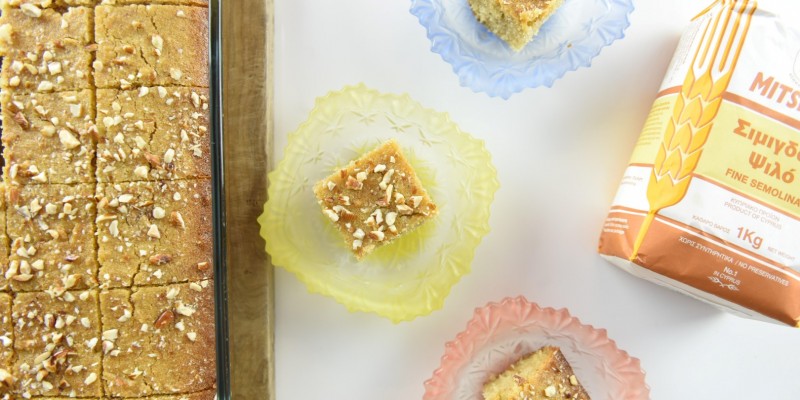 Category:
Pastries & Sweets
3 ½ cups Mitsides Fine Semolina
½ cup Mitsides Plain flour
4 eggs
1 cup sunflower oil
1 cup milk
1 cup almonds, coarsely chopped
1 cup sugar
½ espresso cup cognac
1 teaspoon cinnamon
2 teaspoons Baking Powder
For the syrup:
1 ½ cups water
2 cups sugar
1 cinnamon stick
½ espresso cup rosewater
Preheat the oven to 180 ° C. In a large bowl, beat the eggs with the sugar. Add the sunflower oil, cognac, milk and stir.
In another bowl, mix the semolina, plain flour, ¾ cup almonds, cinnamon and baking powder. Slowly, add the solids into the liquids bowl.
Coat a rectangular Pyrex with some oil and add the mixture. Sprinkle the remaining almonds on top and bake in the middle of the oven for 45 minutes.
In the meantime, prepare the syrup. In a small saucepan, add all the ingredients and simmer until you have a silky texture. Let the syrup cool down completely.
When the halva is ready, carve into square pieces and pour the syrup on top. Let it sit for a few minutes and serve!