Organic Chicken & Porcini Bolognese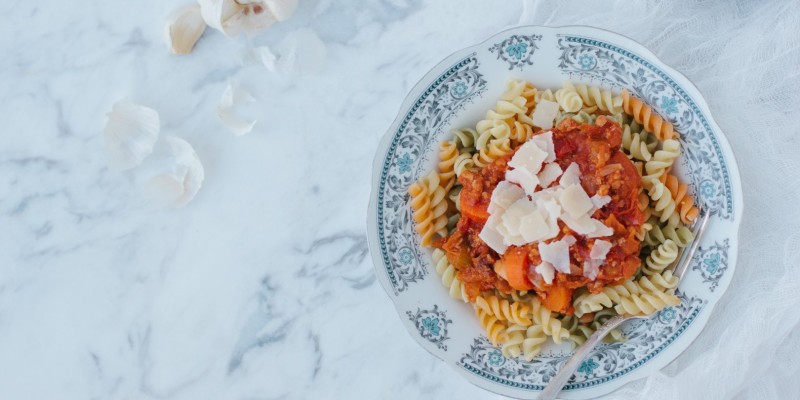 Category:
With Meat & Poultry
400 g organic chicken mince
1 tbs salted butter
1/2 large onion, diced
9 g dried porcini mushrooms left to soften in 1/3 cup boiling water
1 large garlic, diced
2 small celery sticks, diced
2 small carrots, diced
2 small bay leaves
1 tsp of dried oregano
handful of cherry tomatoes, halved
2 large tsps Mitsides Tomato Paste
3-4 tbs red wine
400 grams Mitsides Chopped Tomatoes
1 tsp sugar
3-4 tbs cream
1 tsp red vinegar
1 package Mitsides Tricolore Fusilli
1. Heat 1 tbs of olive oil on high heat on the stove.  Fry the chicken mince until it is cooked. Add salt & pepper to taste, but add a little less salt than is needed so that you can add more later if necessary. Add the butter and stir until it has melted.
 
2. Add the onion, garlic, celery, carrot, cherry tomatoes, bay leaves, oregano and porcini mushrooms (minus the water). Stir fry for about five minutes until softened. If the mixture begins to stick to the bottom of the pan, add a little of the tomato sauce from the canned tomatoes.
 
3. Add in the tomato paste and continue to fry for about 3 minutes.
 
4.  Add in the porcini water, mix it around and fry until it the porcini water liquid evaporates.
 
5. Add in the red wine, mix it around and fry until the red wine liquid evaporates.
 
6.  Add in the canned tomatoes and turn the heat down so that the sauce lightly simmers. Add the sugar. Simmer for about 20 minutes, until most of the liquid has evaporated and the sauce begins to thicken.
 
7. Add the cream and stir until incorporated. Then add the vinegar and stir and cook for another 5 minutes. Season with salt & pepper if needed.
 
8. Serve over top boiled tricolore fusilli. Enjoy!