Orzo pasta with curry and prawns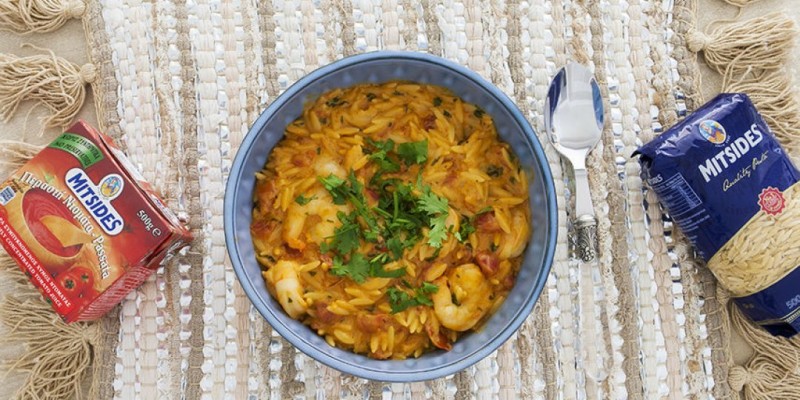 If you like Indian curry, you should try this recipe which came up to me by chance and ended up as one of my favorites !!!
 
1 cup Mitsides Orzo (250g)
500g large peeled prawns
2 cups boiling water
½ cup coconut milk
½ cup Mitsides chopped tomatoes 
½ cup fresh cream
2 chili peppers, chopped (with seeds)
1 onion, chopped
3 garlic cloves, chopped
1 teaspoon cumin powder
1 teaspoon curry powder
1 teaspoon powdered ginger 
1 tsp turmeric powder 
½ cup chopped fresh coriander
salt and pepper
olive oil
1. In a large, deep pan heat a little olive oil in and add the onion and garlic. Cook for 1 minute and add the orzo pasta and chili peppers. Cook for another 1-2 minutes, then add the coconut milk, chopped tomatoes and 1 cup of boiling water.
2. Add all the spices (cumin, ginger, curry, turmeric) and some salt and pepper and stir. Cover the pan and turn down the heat to medium.
3. When almost all liquids have evaporated add another cup of boiling water and continue cooking. When the pasta is almost ready, add the prawns and coriander and cover the pan for about 3-4 minutes until the prawns have cooked.
4. Add the cream and let it cook for another minute.
5. Serve in deep dishes and garnish with a little more coriander.