Pistachio cake with orange-blossom syrup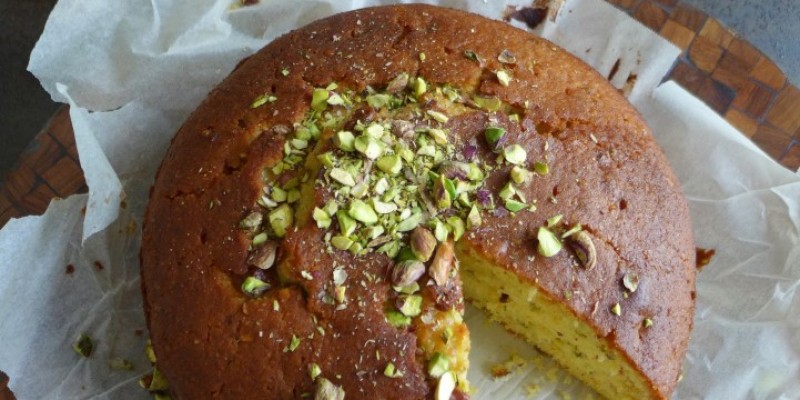 Category:
Pastries & Sweets
2 cups "Mitsides" self-raising flour
½ tsp salt
250 gr unsalted butter (softened)
1 cup granulated sugar
3 large eggs
1 tsp vanilla extract
1 Tbs orange zest zest
½ cup milk
2/3 cup roughly chopped pistachios
For the syrup
1/3 cup sugar
1 Tbs orange blossom water
¼ cup orange juice
Preheat oven 175 C (350 F). Grease the bottom of a round 8inch spring form pan. Line bottom with greaseproof paper. In a bowl, sift together flour, and salt.
Make the syrup. Mix sugar and orange juice together in a small saucepan. Bring to boil and take off the heat. Add the orange blossom water. Leave to cool.
In a bowl of a stand mixer, fitted with the paddle attachment, beat butter and sugar on medium-high speed until fluffy. Add eggs one at a time beating well (at least 30 seconds) after each addition. Add zest and vanilla essence.
Turn speed to low and add 3 tablespoons of flour mixture and the milk. Add the remaining flour and beat briefly until mixed. Don't over beat. Add the pistachios and mix again until incorporated.
Pour batter into prepared pan. Bake for 60-70 minutes, until a cake tester comes out clean. With a skewer, prick holes on the cake and brush all over with the syrup. Leave in the pan for half an hour. Carefully remove the sides on the pan and transfer cake to a platter. Cool completely before slicing and serving.