Ravioli With Creamy Tomato Sauce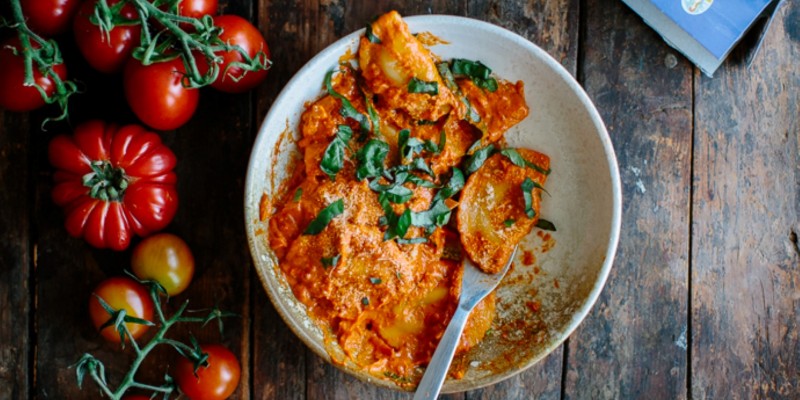 375g (1 pack) Mitsides Cyprus Ravioli (with halloumi)
83g roasted red pepper (from a jar) blended in a food processor
140g Mitsides Tomato Paste (2 packs)
50ml vodka
1 diced small onion
3 diced garlic cloves
1 & 1/2 tbs olive oil
1 tbs butter
1/2 cup whipping cream
pinch red chili flakes
salt & pepper to taste
chopped fresh basil as garnish
1. In a large pot on the stove, cook the Mitsides Ravioli.
2. While the ravioli are cooking, melt olive oil and butter over medium-high heat in a frying pan on the stove. Add onion, garlic and stir fry for 3 minutes.
3. Add vodka to the frying pan. Stir fry until the alcohol evaporates. Add tomato paste and red pepper paste to the frying pan. Turn down temperature to low and stir for about 5 minutes. Add cream and stir.
4. Drain the ravioli (keep aside some of the ravioli broth). Add ravioli to the sauce. Taste the sauce and ravioli, add salt, pepper, chili pepper flakes to the frying pan to taste. If the sauce is too thick, add a little of the ravioli broth.
5. Serve with chopped basil on top as garnish.