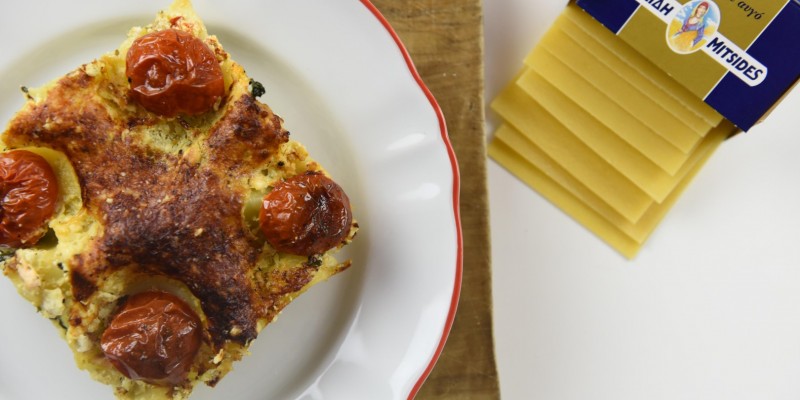 Category:
Oven Dishes
|
Vegetarian
1 pack Mitsides Lasagne 500g
2 salmon fillets, cut in pieces
2 large zucchini
1 cup ricotta cheese (or soft anari cheese)
½ cup cream cheese
½ cup milk
1 Tbsp Mitsides Pesto sauce
3 cups spinach, wilted and drained
4 cherry tomatoes, halved
1 onion, chopped
1 garlic clove, minced
olive oil
½ cup grated parmesan cheese
salt and pepper
Preheat the oven to 180°C.
In a large frying pan, heat 2 tablespoons of olive oil and add the onion and garlic. When softened add the salmon and spinach. Add salt and pepper and let look for 3-4 minutes. Once the salmon has cooked, break it down using a fork or spoon.
In the meantime, cut the zucchini lengthwise using a vegetable peeler (3mm thick) and sprinkle with salt to remove liquids. Pat with a towel to dry.
In a bowl, add the ricotta, cream cheese, milk and pesto, and mix until you have a smooth, creamy mixture. Add salt and pepper if needed.
Coat a rectangular oven proof dish with some olive oil. Add a layer of the creamy mixture and place a layer of lasagne on top. Add some more mixture and then add a layer of zucchini slices, followed by a layer of the salmon mix. Add another layer of lasagne, followed by the creamy mixture, zucchini and salmon. Finish with a layer of lasagne and creamy mixture and sprinkle the top with the grated with parmesan cheese. Top with the cherry tomatoes, cut side down, brush with some olive oil and bake in the oven for 40 minutes.