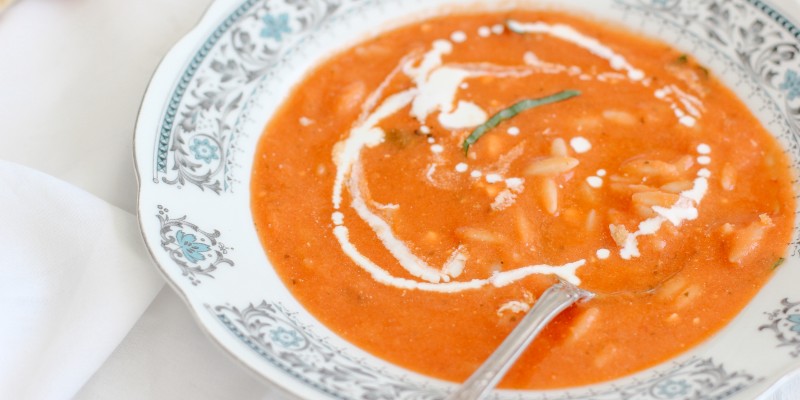 Category:
Soups
|
Vegetarian
1 cup cooked Mitsides Orzo pasta
1 tbs olive oil
1/2 cup finely chopped onion
2 finely chopped cloves garlic
2 bay leaves
2 cans Mitsides chopped tomatoes
3 finely chopped large tomatoes (you can use another can if you don't have fresh tomatoes)
450ml vegetable broth (you can make some with a stock cube if you prefer)
1 tsp brown sugar
1/2 tsp good quality balsamic vinegar
1/4 cup chopped fresh basil
red pepper flakes to taste
salt & pepper to taste
1/2 cup Cyprus yogurt
1. In a large pot, heat the olive oil over medium heat. Then add the onion, garlic and bay leaves and cook until translucent.
 
2. Add the Mitsides chopped tomatoes, fresh tomatoes and vegetable broth. Then stir in the brown sugar and fresh basil. Season with red pepper flakes, salt, and pepper, to taste. Simmer on low for 20 minutes.
 
3. Boil your orzo pasta in a separate pot. I didn't add salt to the water.
 
4. Remove the bay leaves from the pot. Transfer the soup mixture to a blender. Mix well and then return the soup to the pot.
 
5. Stir in the Greek yogurt until incorporated. You may have to use a whisk or a fork to make sure all the little pieces are gone.
 
6. Add the cooked Mitsides orzo pasta to the soup.