Tricolore Halloumi And Sun-Dried Tomato Pasta Salad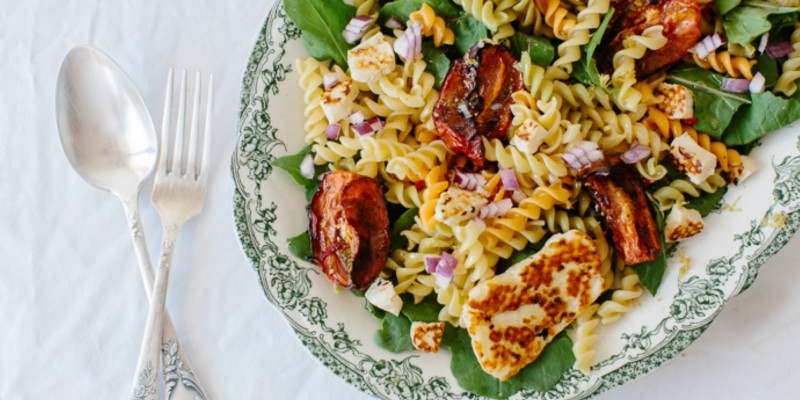 FOR THE SALAD
1/4 of a pack (about 125g) of Mitsides Tricolore Pasta
A good handful of wild rocket leaves
2 tbs finely chopped red onion
6 slices halloumi cubed (about 1 cm squared cubes, you should have about 1/2 cup)
zest of half a lemon
FOR THE DRESSING
1 tbs olive oil
1/2 chopped garlic clove
1/2 tsp honey
1/8 tsp grainy dijon mustard
1/8 tsp apple cider vinegar
a little diced chilly pepper if you wish
salt to taste (but bear in mine halloumi is quite salty so don't add too much)
FOR THE ROASTED TOMATOES
2 large chopped tomatoes
light sprinkling of cayenne pepper
1 diced garlic
1/4 red chilly diced (seeds removed)
generous sprinkling of sugar
generous salt and pepper to taste
1. Prepare the roasted tomatoes. Preheat the oven to 180C. Place the tomatoes (skin down) on a parchment paper on top of a baking tray and dress them with the garlic, cayenne pepper, garlic, red chilly, sugar, salt and pepper. Ensure that each tomato is evenly coated with a generous sprinkling of sugar, salt and pepper and a little cayenne pepper, garlic and red chilly. Place in the oven for 1 hour. The tomatoes will begin to brown at the edges, and will start to shrivel but still remain slightly juicy.
2. Once the tomatoes have come out of the oven, let them cool. In the meantime, place a pot of boiling salted water with an organic chicken cube on the stove and prepare the pasta.
3. At the same time, in a large frying pan on high heat, add the halloumi and fry it (or grill it if you have a grill) until browned. Remove and let cool.
4. While the pasta is just about finished, prepare the salad. Place a generous handful of rocket leaves on a plate. Make the salad dressing by mixing the dressing ingredients together in a small bowl.
5. Once the pasta is ready, drain it and run cold water through the pasta to cool it down. Let all the water drain from the pasta. Add it on top of the rocket leaves. Add the diced red onion, roasted tomatoes and grilled/fried halloumi. Drizzle the dressing on top, grate zest of half a lemon on top and serve immediately.