Whole meal Tomato Galette with Pesto and Ricotta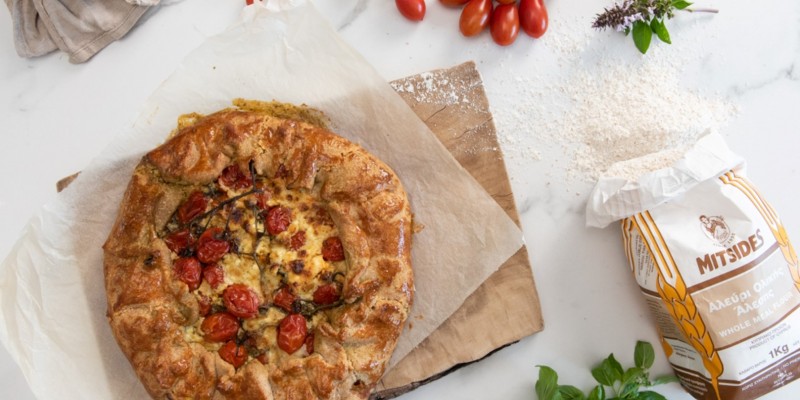 Category:
Breads & Doughs
|
Oven Dishes
|
Vegetarian
For the pastry:
250g Mitsides Wholemeal flour
200g unsalted butter, chilled
125g plain yogurt 
For the filling:
3 Tbsp Mitsides Al Pesto sauce
400g cherry tomatoes, on stems
150g ricotta
50g mascarpone
½ tsp Mitsides vegetable powder
1 egg yolk, beaten, for brushing
Place the flour in a food processor. Dice the chilled butter into squares then add to the flour and pulse until the mixture looks like fine breadcrumbs.
Add the yogurt and pulse again until the dough comes together. Remove and wrap the dough in cling film, then put in the fridge for 20 minutes. In a small bowl mix ricotta, mascarpone and vegetable powder.
Preheat the oven to 190°C .
Remove the dough from the fridge and place it on a floured surface. Using a rolling pin, roll the pastry out to a round circle, around 40cm in diameter. Transfer to baking tray lined with parchment paper and spread 3 tablespoons of the pesto in the middle of the base.
Place the cherry tomatoes still on the stems on top of the pesto and then spoon the ricotta mix between the tomatoes.
Fold the pastry sides up and over the mixture. You will not have to cover the whole mixture. Brush the pastry edges with the beaten egg yolk and bake for 40-50 minutes until the pastry is golden. Remove from the oven, set aside and let cool for 15 mins before serving.