Wholewheat Orzo and Beet Salad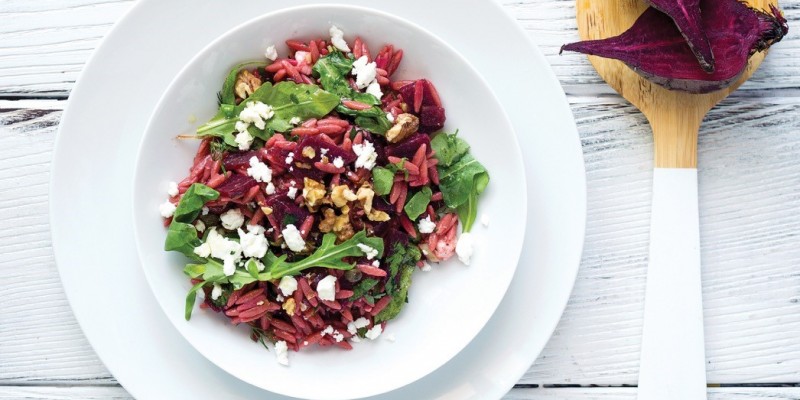 ½ cup walnut halves
4 cups peeled, raw beets, diced
300 grams «Mitsides» wholewheat orzo
2 Tbs capers
1 sprink onion, sliced
½ cup fresh parsley, chopped
½ cup fresh dill, chopped
2 cups rocket leaves
¾ cup feta cheese, crumbled
Salt and freshly ground black pepper
For the dressing
¼ cup olive oil
2 Tbs balsamic vinegar
2 Tbs lemon juice
2 Tbs honey
Roast the walnut halves at a 175 C oven for 5-6 minutes, until fragrant and slightly coloured. Set aside to cool.
Fill a large pot with plenty of salted water and bring to a rolling boil. Add the beets, lower the heat to medium and cook until crisp tender. Cooking time will depend on the hardness of the beets. Taste one to check. Beets should be soft but not mushy. Remove beets with a slotted spoon. Set aside. Keep the beet water in the pot.
Add the pasta in the beet water and cook according to packet instructions until cooked al dente. Drain orzo (discard water) and rinse with cold water to stop the cooking process. Put in a large mixing bowl. Add the beets and mix. Leave to cool completely to room temperature. At this stage you can keep the salad in the fridge for 24 hours.
To assemble the salad, first mix all ingredients for the dressing in a small bowl or jar. Set aside until needed.
Mix the orzo and beets with the capers, onion, parsley, dill, rocket, half the feta and half the walnuts. Drizzle with the dressing and mix again. Taste and adjust salt and pepper.
Transfer salad in a serving bowl. Scatter the remaining feta and walnuts on top and serve.