Brussel Sprouts, Blue Cheese & Honey Glazed Vegetables Bulgur Wheat salad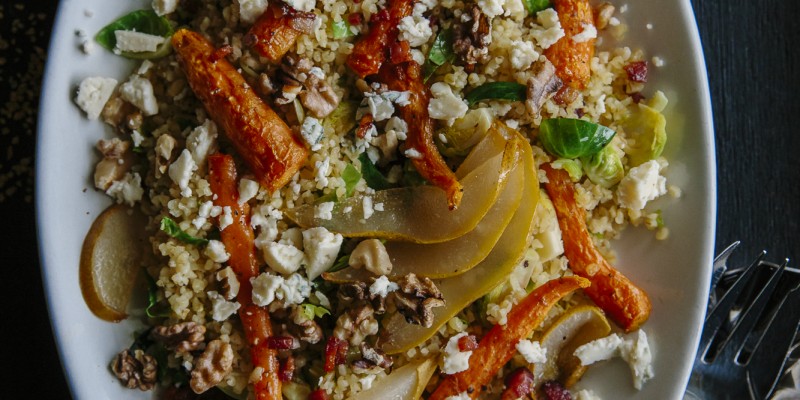 Category:
Salads
|
With Meat & Poultry
1/2 cup Mitsides Bulgur Wheat (Fine or Coarse)
1 ½  cups sliced Brussel Sprouts
1/4 cup toasted walnuts
3 slices of bacon or lountza, chopped into small squares
1 pear, thinly sliced
5 small carrots, peeled
1 ½ teaspoons honey
1 to 2 tablespoons blue cheese, crumbled into small pieces
olive oil for drizzling
salt and pepper for seasoning
 
For the dressing
3 tablespoons olive oil
1/2 teaspoon grainy mustard
1 teaspoon honey
pinch of salt and pepper
1. Preheat the oven to 175°C. In a large non-stick frying pan, toast your walnuts and place them to the side.
 
2. In a roasting pan, place the carrots. Drizzle a little olive oil over top of the carrots. Season with salt and pepper. Toss the carrots to ensure they are all covered in olive oil and salt and pepper. Roast in the oven for 15 minutes. Then add the pears to the pan, season the same with salt and pepper. Drizzle the honey over top the carrots and pear. Roast for another 7 minutes.
 
3.  Add 1 cup of chicken stock to ½ cup of bulgur wheat. Cook the bulgur wheat until half cooked. Turn off the heat, cover the pot with a lid, and let the bulgur wheat cook in its own steam, this will ensure it is light and fluffy.
 
4. In the large non stick frying pan, add the bacon pieces. Fry until crispy. Remove and let cool. Drain the bacon fat, save for 1 tablespoon. Add the brussels sprouts and fry until dark green, for about 3 to 5 minutes.
 
5. Add the brussels sprouts, bacon, carrots, pears, blue cheese and walnuts to the bulgur wheat and stir together. Stir together the dressing ingredients in a small bowl and mix into the salad. Serve.