Cheddar, Chive and Lountza Scones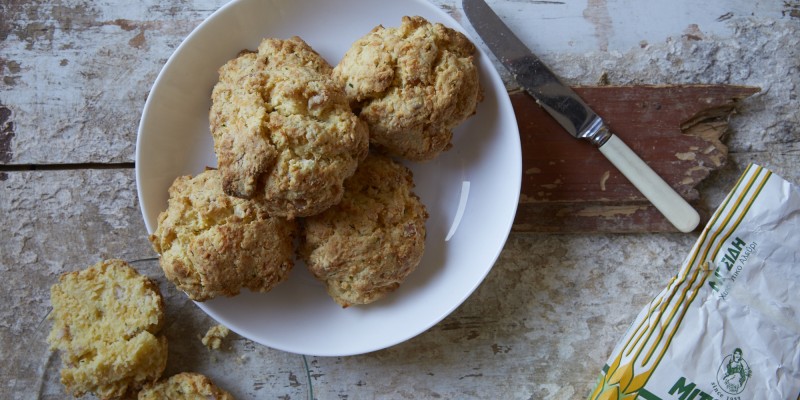 2 cups Mitsides Village Flour
1 tablespoon baking powder
1/2 cup salted butter, cold, chopped into small cubs
2/3 cup buttermilk (or add 2 tablespoons yogurt to a 3/4 of a cup and fill up the remaining space with milk)
1 large egg, lightly beaten
1/2 cup finely chopped Lountza, or smoked ham
1/2 cup grated yellow cheddar
2 tablespoons finely diced chives, or spring onions
Preheat the oven to 200C and line a baking sheet with parchment paper.
In a large bowl, mix together the flour and baking powder with a fork.
Rub the butter into the flour mixture with the heel of your hand to create a coarse meal.
Add the cheddar, Lountza and chives and toss the mixture together.
In a small bowl, mix together the egg and buttermilk.
Add the liquid mixture to the flour mixture and use your hands to create a soft dough. It will be sticky.
Form 6 free form scones and place them on the baking sheet.
Bake for 20 minutes until golden brown.