Cherry tomato and herb Spaghettini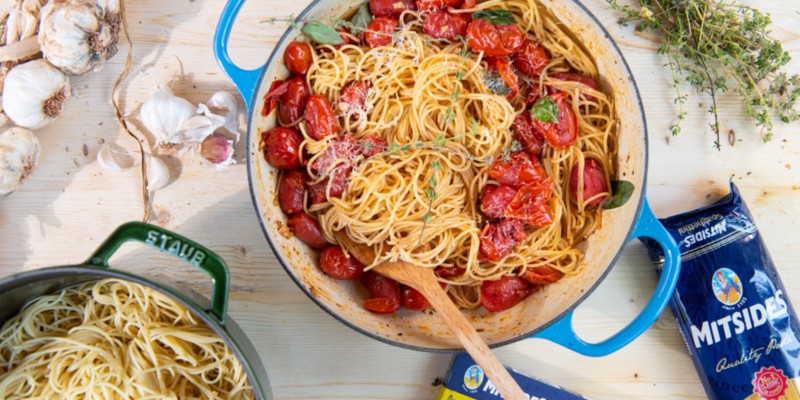 1 pack Mitsides Spaghettini
2 cubes Mitsides Βouillon for Pasta 
2 cups cherry tomatoes, whole
2 garlic cloves, peeled and chopped
4 Tbsp olive oil
2 Tbsp balsamic vinegar
½ tsp dried Italian herbs
½ tsp sugar
½ tsp salt
½ tsp pepper
10-15 basil leaves
1 Tbsp butter
½ cup grated parmesan
In a large saucepan with plenty of boiling water add the bouillon cubes. Once dissolved, add the pasta and cook following pack instructions.
Meanwhile, heat the olive oil in a deep skillet and add the cherry tomatoes. Continue by adding the garlic, balsamic vinegar, sugar, salt, pepper and dried herbs. Add 2-3 Tbsp of water (or even better pasta water) and cook covered on medium heat for 20 mins. Add the butter and mix.
Once the pasta is ready, drain and mix with the cherry tomatoes. Add the basil leaves and parmesan and serve.