Chicken, Pasta Salad with Yogurt and Feta dressing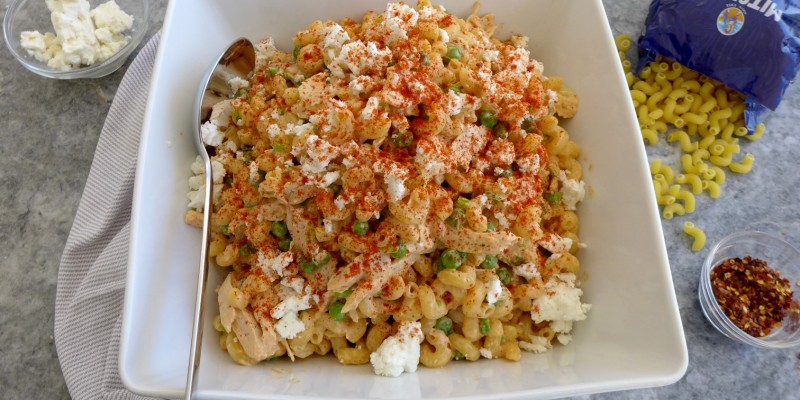 For the Salad:
1 ½ cup peas, frozen
500 grams «Mitsides» shrimp shaped pasta
2- 3 cups cooked chicken, cut into bite size pieces
2 stalks celery, sliced
1 spring onion, sliced
100 grams feta cheese, crumbled
salt and pepper to taste
paprica for sprinkling
 
For the dressing:
½ cup mayonaise
½ cup greek yogurt
50 grams feta cheese
1 garlic clove
2 Tbs lemon juice
1 tsp paprica
½ tsp chilli flakes
First make the dressing. Put all ingredients in a bowl of a blender or food processor and blend until smooth.
Bring a large pot of salted water to boil. Blanch the peas for 2 minutes. Remove with a slotted spoon and put into iced water. This way they will not lose their bright, green colour. Drain from the water and put in a large bowl.
In the same water boil the pasta according to packet instructions. Drain and rinse under cold running water to stop the cooking process. As soon as pasta is cool put in the bowl with the peas. Add the cooked chicken, celery, spring onion and dressing. Mix well and taste for salt and pepper.
Put salad in a large serving bowl. Crumble the feta cheese on top, sprinkle prinkle with some paprica and serve. Salad can be kept in the fridge for up to 2 days.