Cold tuna and pasta salad with parsley, coriander and mint pesto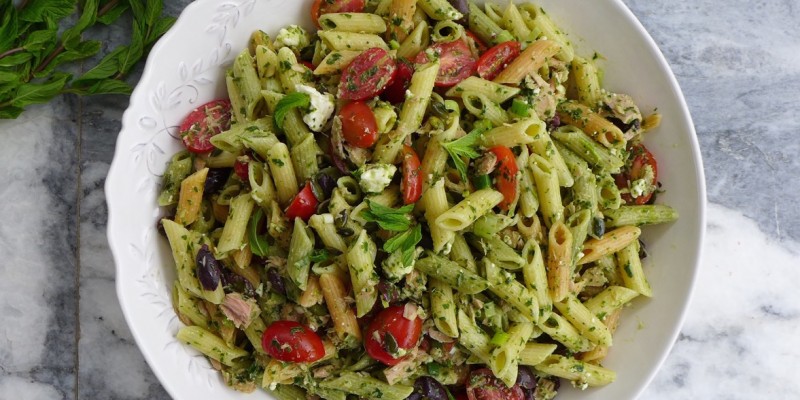 Category:
Salads
|
Vegetarian
1 pack "Mitsides" tricolore penne 500g
2 x 160 grams canned tuna in brine, drained
2 cups cherry tomatoes, halved
½ cup black kalamata olives, pitted and roughly chopped
1 spring onion, sliced
1 cup feta cheese, crumbled
2 Tbs sunflower seeds
salt and pepper
 
For the dressing
½ cup fresh coriander, roughly chopped
½ cup fresh parsley, roughly chopped
¼ cup fresh mint leaves
1 garlic clove
½ cup olive oil
¼ cup lemon juice
Bring a large pot of salted water to boil. Add the pasta and cook according to packets instructions. Drain and rinse under cold, running water. Drain very well and put in a large bowl.
Make dressing while pasta cooks. Put all ingredients in the bowl of a blender or food processor. Blend until chopped and emulsified.
Add dressing to the pasta bowl and mix with a spatula. Add the drained tuna chunks, cherry tomatoes, olives, feta cheese, spring onion, sunflower seeds, salt and plenty of freshly ground pepper. Mix again. Taste and adjust seasoning. Serve at once or refrigerate up to 12 hours.