Creamy Rigatoni with cauliflower and sundried tomatoes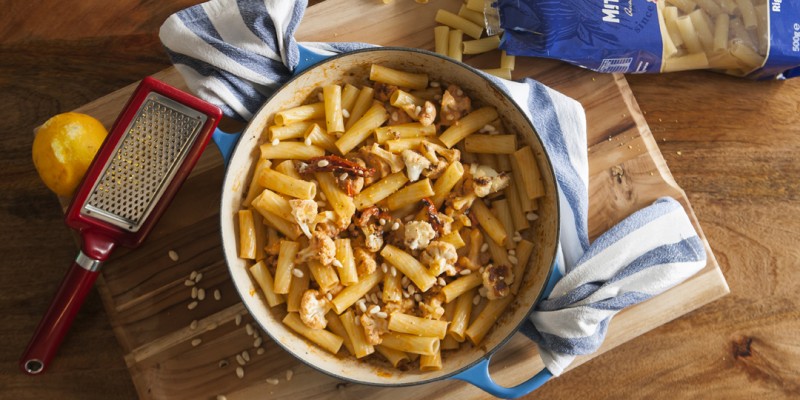 1 pack Mitsides Rigatoni 500g
2 cups cauliflower, cut in small florets
1 cup sundried tomatoes, drained and cut in strips
1 garlic clove, minced
½ cup feta cheese, crumbled
1 cup fresh cream
juice and zest of ½ lemon
1 teaspoon Mitsides tomato paste
1 handful pine nuts, toasted
olive oil
salt and pepper
In plenty of salted boiling water add the pasta and cook following pack instructions.
In the meantime, in a large and deep skillet drizzle some olive oil and add the garlic. Then add the cauliflower and sundried tomatoes. Add salt pepper and the lemon zest and cooking for a couple of minutes. Add the feta and mix.
In a small bowl mix the cream, lemon juice and paste. Add it to the cauliflower mix and cook on low fire for a couple more minutes.
When the pasta is cooked, drain and add to the sauce. If you prefer the sauce to be thinner you can add some of the pasta water.
Serve and sprinkle with pine nuts.