Cyprus Ravioli with Sage and Walnuts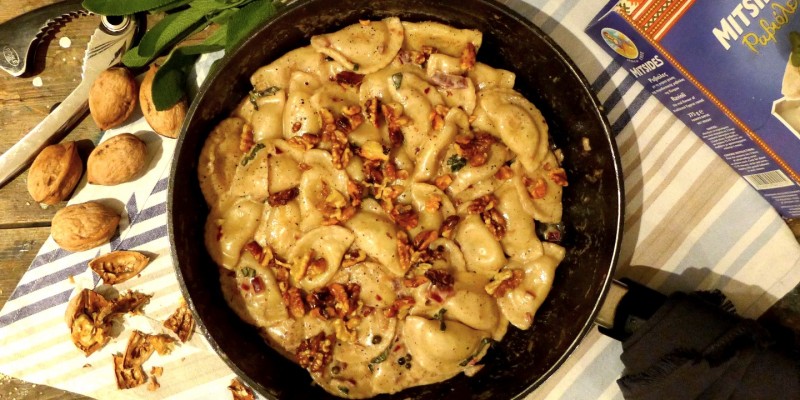 1 pack «Mitsides» Cyprus Ravioli 375g
1 Tbs olive oil
1 Tbs unsalted butter
1/3 cup walnut halves
½ red onion, finely chopped (about 1/3 cup)
1 garlic clove, crushed
1 Tbs sage leaves, chopped
¾ cup white wine
½ cup cream
½ tsp green peppercorns in brine, drained (optional. It will bring a peppery kick to the dish)
salt and pepper to taste
half a lemon
Bring a large pot of salted water to a boil. Add the ravioli, straight from the freezer and cook for 10 minutes. Drain and reserve one cup of the cooking water.
In a large pan, melt the butter with the olive oil over medium-high heat. Add the walnuts and cook about a minute, stirring frequently until fragrant. Remove with a slotted spoon and put in a bowl.
Lower heat to medium and add the onions, garlic and sage to the pan. Cook about 2 minutes, stirring frequently until onion is soft and beginning to colour. Add the wine, bring to boil and let it evaporate for a minute. Then add the cream and peppercorns (if using) and simmer for about 3 minutes until mixture is reduced and creamy.
Add the drained ravioli and heat through, shaking the pan to distribute the sauce. If sauce becomes too thick add a few tablespoons of the ravioli cooking water. Season with salt and pepper.
Put ravioli in a serving platter. Scatter the walnuts and squeeze half a lemon on top. Serve at once.