Galette with mushrooms and artichokes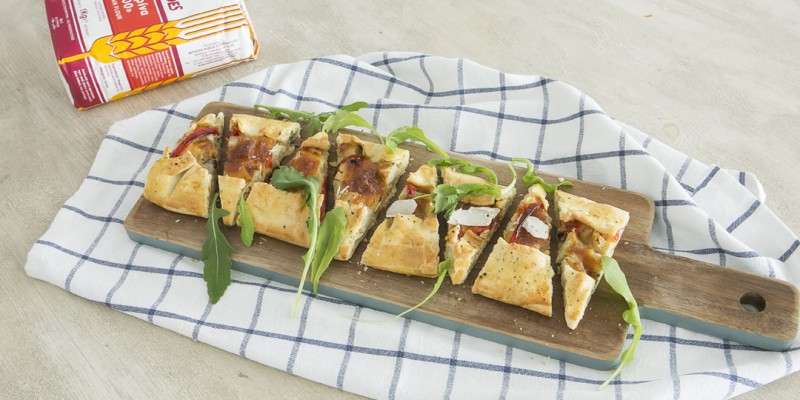 Category:
Breads & Doughs
|
Oven Dishes
|
Vegetarian
For the dough:
1¼ cup Mitsides Plain flour
½ cup very cold unsalted butter, cut in cubes¼ fl. cold water
¼ cup cold water
½ teaspoon salt
1 egg, whisked (to brush the dough)
For the galette:
3 tablespoons sour cream
1 cup mushrooms, sliced
1 cup chopped canned artichokes (or frozen)
½ coloured pepper, cut into thin strips
3 tablespoons mozzarella cheese, grated
a small handful of wild rocket leaves
Parmesan flakes
salt and pepper
To make the dough, put the flour, salt and cold butter in a food processor and mix for a few seconds. Add the cold water slowly and continue to mix for another 10 seconds. If necessary add some water.
Transfer the dough to a floured surface, knead into a ball, and using the rolling pin, flatten the dough creating a long oval base. Transfer the dough to a baking sheet and place it in the refrigerator for about half an hour.
Preheat the oven to 200 ° C. Remove the dough from the refrigerator. Spread the sour cream in the middle on the base avoiding the edges and add some pepper. Spread the mushrooms, the artichokes and the red pepper. Sprinkle with mozzarella and salt and pepper. Fold the edges of the dough on all four sides inwards to form your galette. Brush the dough with the egg and bake in the oven for about 40 minutes.
When the galette is cooked, let it cool for about 15 minutes, add the rocket and parmesan on top and cut into triangular pieces.