Koupes (Savoury Meat Bulgur Doughnuts)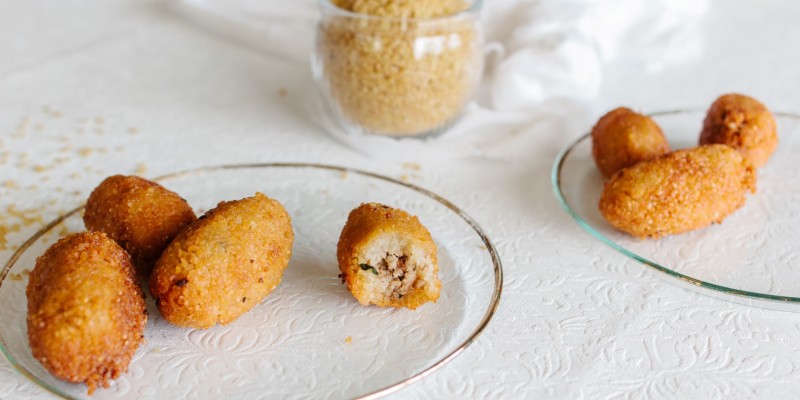 Category:
With Meat & Poultry
for the shell
2 cups Mitsides Fine Bulgur Wheat (red package)
1 & 1/2 cups boiling water
1/2 tsp salt
1/2 cup Mitsides All Purpose Flour
1/2 tsp cinnamon
1/2 tsp white pepper
 
for the filling (I made a lot of filling. This yields about 1.5 cups of extra filling which can be enjoyed on its own.)
500g lean ground pork
3 tbs olive oil for frying
1 finely chopped large onion
1/2 cup finely chopped parsley
2 tbs finely chopped fresh mint
3/4 tsp cinnamon
1/2 tsp cumin
1/8 tsp all spice
2 tbs pine nuts
salt & pepper to taste
vegetable oil for frying (3 inches deep)
1. Prepare the bulgur wheat mixture. In a large bowl add the bulgur wheat, salt and boiling water. Cover the bowl with plastic wrap and let rest for 1.5 to 2 hours until the bulgur wheat absorbs the water.
 
2. In the meantime, prepare the filling. Heat the olive oil, add the onion and cook and stir until the onion is soft. Then add the pork, and stir fry until it is cooked and the liquid released has evaporated. Then add the parsley, mint, cumin, cinnamon, all spice and salt and pepper to taste.
 
3. Once the bulgur wheat mixture is ready, add the cinnamon, flour and white pepper. Mix together well. Then begin to prepare the "koupes". Add a drop of water to your hands and rub them together. Pick up about a walnut sized amount of the bulgur wheat mixture. The bulgur wheat mixture will crack a tiny bit when you spread it out into your hand, but it should be wet enough that it comes together like in the pictures. You may need to add a little bit more water if this is not the case.
 
4. Flatten the walnut sized scoop of bulgur wheat mixture into the palm of your hand. Curl your hand to form a little bowl shape and add a teaspoon of filling. Add a little bit more bulgur wheat mixture on top of the meat. Then with both hands form a small little oval-sphere ball. Make sure the sphere is tightly packed otherwise the "koupe" might fall apart when you fry it. Place the "koupe" in a plate. Prepare all the "koupes" the same way.
 
5. Heat the vegetable oil to a high temperature, it should be about 3 inches deep. Add one "koupe" at a time, rolling them occasionally in the vegetable oil to make sure the "koupe" becomes golden brown all the way around.
 
6. Once the "koupe" is golden brown, remove it, and place it on paper towel to soak up the excess vegetable oil.