Lasagne with Spicy Cyprus Sausage "Pastourma"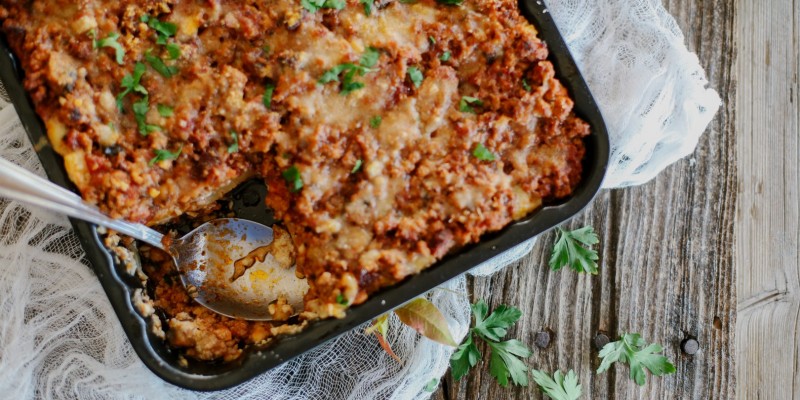 Category:
Oven Dishes
|
With Meat & Poultry
600g ground pork
3 diced small spicy Cypriot sausages "pastrouma"
2 chopped cloves garlic
1 chopped small onion
1 can Mitsides Chopped Tomatoes
70g Mitsides Tomato Paste
2 tbs fresh parsley
2 tbs dried basil
1 tsp salt
2 small containers cottage cheese
1 whole beaten egg
1/2 cup grated parmesan cheese
2 tbs fresh parsley
1 tsp salt
1 package sliced mozzarella cheese
1 package Mitsides Lasagne
1. In a large pan, stir fry the ground pork, sausage, garlic, onion and mushrooms. Cook over medium-high heat until browned. Add tomatoes, tomato paste, 2 tablespoons parsley, basil and salt. After adding the tomatoes, let the sauce simmer for 45 minutes.
 
2. While the sauce simmers, mix cottage cheese, beaten eggs, grated parmesan, 2 more tablespoons parsley, and 1 more teaspoon salt. Stir together well. Set aside.
 
To assemble:
 
3. Arrange lasagne noodles in the bottom of a baking pan, overlapping if necessary. Spoon half the cottage cheese mixture over the noodles. Spread evenly. Cover cottage cheese with a layer of mozzarella cheese. Spoon a little less than half the meat/sauce mixture over the top.
 
4. Repeat, ending with meat/sauce mixture. Sprinkle top generously with extra parmesan.
 
5. Either freeze, refrigerate for up to two days, or bake immediately: 175C oven for 20 to 30 minutes, or until top is hot and bubbly.