Melomakarona With Plain Flour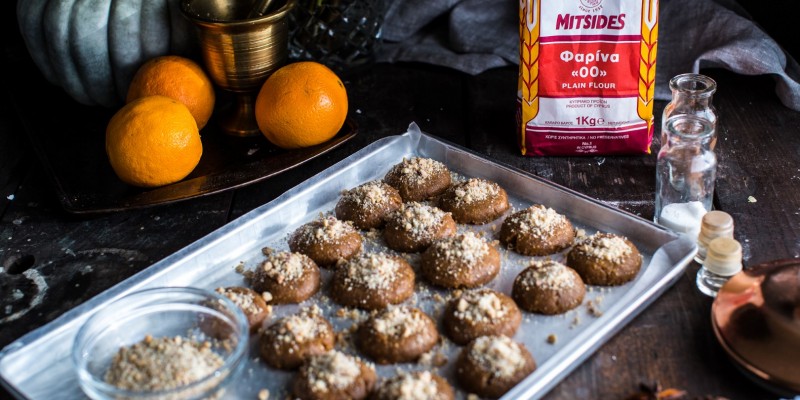 Category:
Pastries & Sweets
FOR THE COOKIES
6 cups Mitsides Plain Flour (more or less)
3 cups vegetable oil
3/4 cup orange juice
zest of 2 oranges
3/4 cup powdered sugar
2 tsp cinnamon
1/2 tsp nutmeg
1/2 tsp ground cloves
2 tsps ginger
1 & 1/2 tsps baking powder
1 & 1/2 tsps baking soda
1/2 tsp salt
1 cup ground lightly roasted almonds
1/2 cup ground lightly roasted hazelnuts
coarsely ground almond-hazelnut mixture (1/2 and 1/2) for sprinkling on top of the cookies
FOR THE SYRUP
2 cups water
2 cups sugar
1 cup of honey
juice of 1/2 lemon
1 cinnamon stick
5 cloves
2 thick pieces of orange rind
1. Preheat the oven to 175C.
2. Mix all the ingredients together except the flour with a hand whisk, then slowly mix in the flour until the mixture becomes thick.
3. Use your hand to finish mixing the dough. The dough is ready when it does not stick to your hands, be firm and you should be able to shape cookies out of it.
4. Form the cookies into circle shapes and use your thumb to make a dimple on top and place on a baking tray.  Bake them for 20 to 25 minutes.
5. Remove from the oven and let the "melomakarona" cool.
6. Once the cookies have cooled, prepare your syrup. Put all the syrup ingredients except the honey into a pot on the stove. Bring the syrup to a boil. Add the honey and bring to a boil again, then lower the temperature to a simmer. Dip the cookies in a few at a time for a few seconds (maximum 10-15 seconds).
7. Remove the "melomakarona" and place on wax paper. Sprinkle with coarsely ground nuts and enjoy!