Moroccan and spicy spaghetti bolognese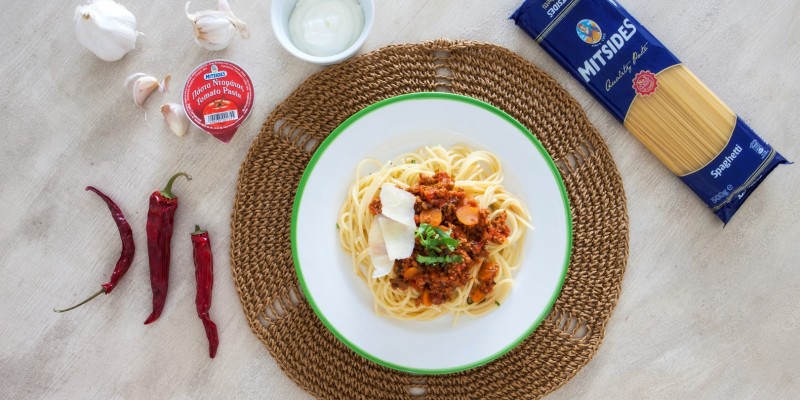 Category:
With Meat & Poultry
1 pack Mitsides spaghetti (500g)
500g. minced lamb
2 carrots, cut into thin slices
1 onion, chopped
2 cloves garlic, crushed
1 teaspoon cumin
½ teaspoon chili flakes
½ glass of white wine
1 cup, Mitsides tomato paste (70gr.)
1 tin chopped tomatoes Mitsides (400g.)
1 teaspoon brown sugar
½ cup chopped corriander
Olive oil
Salt and pepper
Yoghurt
Parmesan
 In a saucepan, put a little olive oil and fry the lamb until it changes color. Drain, place in a bowl and set aside.
In the same pan, put a little olive oil and fry the onion and carrot for about 3-4 minutes. Add the garlic, cumin and chili. Add the wine and stir. Add the chopped tomatoes, tomato paste and sugar.
Add the minced meat and season to taste. Allow the sauce to cook for about 45 minutes.
In the meantime, cook the spaghetti in plenty of salted boiling water, following package directions. When the pasta is ready, drain and serve in a deep dish with the Bolognese, grated Parmesan and a little yogurt on the side.