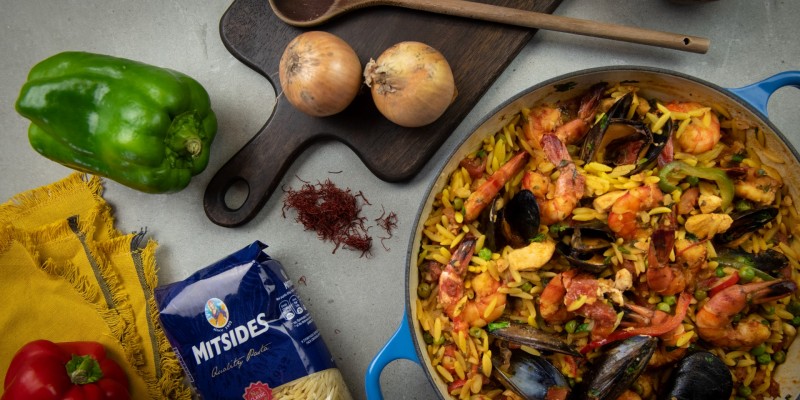 Category:
Vegetarian
|
With Meat & Poultry
|
With Seafood
1½ packet MITSIDES Orzo
¼ glass olive oil
2 onions, cut in rings
1 garlic clove, crushed
2 red peppers, cut in small slices
2 green peppers, cut in small slices
1½  tin MITSIDES chopped peeled tomatoes ( 600g )
½ glass peas, boiled
½ bunch parsley, finely chopped
¼ glass almonds, peeled and chopped
1 chicken breast, cut in small strips
500g prawns, peeled
500 g mussels, cleaned
½ teaspoon saffron powder
a few drops Tabasco, salt, pepper
1. Heat the olive oil in a large, deep pan (Wok-style is ideal) and gently fry the onions and garlic. Add peppers, followed by the chicken and seafood and cook for 10 minutes.
2. Add the tomatoes, parsley, almonds, peas and Tabasco, season with salt and pepper and cook for another 15 minutes.
3. Meanwhile, add the orzo to a large saucepan of plenty of salted, boiling water and boil, uncovered, until al-dente. Drain and return to the saucepan. Dissolve the saffron powder in ½ glass warm water, and pour over the drained pasta, tossing well.
4. Empty the cooked pasta in the pan with the sauce, mix well and serve.