Pasta shells with chicken and broccoli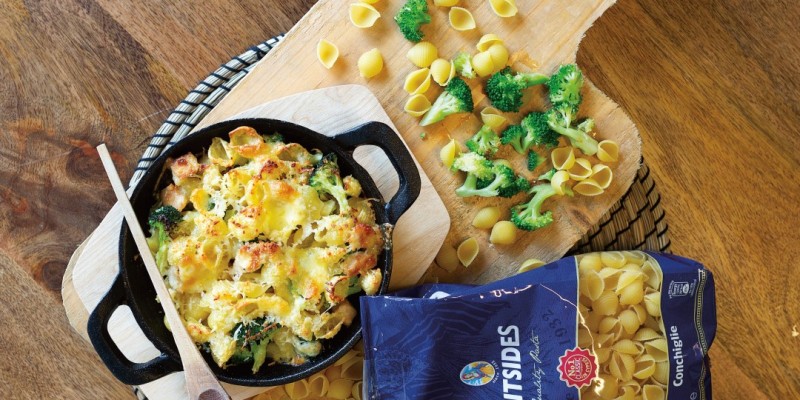 Category:
For Kids
|
Oven Dishes
2 cups Mitsides conchiglie
1 small onion, chopped
2 cups milk
1 cup boiling water
1 chicken breast, cut in cubes
1 Tbsp olive oil
1 Tbsp soy sauce
1 Tbsp lemon juice
1 small broccoli head, cut in small florets
1 tsp Mitsides Vegetable Powder
1 cup cheddar cheese, grated
a pinch nutmeg, grated
Start by marinating the chicken. In a food bag add the chicken cubes with the olive oil, soy sauce and lemon juice. Place in the fridge for about 30 mins. If you don't have time to marinade don't worry, just mix the ingredients together in a bowl.
Preheat the oven to 180°C.
Place a large skillet on high heat. When it is very hot, add the chicken cubes one by one. Cook each side for 2 minutes. Place cooked chicken in a bowl and set aside.
In a medium sized pot, add the water, milk and vegetable powder. When the liquid has boiled, add the pasta and chopped onion and cook for 6 minutes. Add the broccoli and cook for 2 more minutes until pasta is cooked. Add the chicken, nutmeg and ½ cup cheddar cheese to the pasta. Transfer to an ovenproof dish. Add the remaining grated cheddar cheese on top and bake in the oven for 15 minutes until the cheese has melted and turned golden brown.