Penne Carbonara With Lountza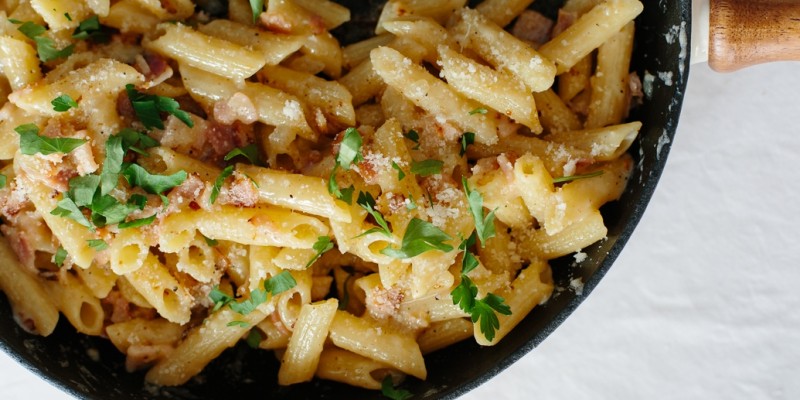 Category:
With Meat & Poultry
1/2 pack of Mitsides Penne (250g)
2 large eggs
1 heaping cup of grated Parmesan cheese
2 tsp freshly ground pepper
3/4 cup finely diced onion
3 garlic cloves finely diced
4 slices of bacon chopped into small squares
2 small slices of Cypriot lountza ham chopped into small squares
salt to taste
chopped flat-leaf parsley to taste
1. Place a pot on high heat and cook the penne pasta in chicken broth.
2. As the pasta is cooking, place a large frying pan on high heat. Add the bacon and lountza and fry until some of the bacon fat has been released and the bacon begins to brown. Add the onion and garlic and continue to fry, stirring constantly, until the bacon and lountza become crispy and the onion and garlic turn translucent or slightly brown. Remove from heat and let cool slightly while the pasta continues to cook.
3. As the pasta is still cooking, in a small bowl, put the eggs and Parmesan cheese. Mix together with a fork so that the mixture turns yellow and the Parmesan cheese is incorporated. Add the pepper and salt to taste to the mixture and stir together.
4. Once the penne pasta is ready, drain it. Place the penna pasta in the frying pan with the bacon mixture. Stir together. Then add the egg and Parmesan mixture to the frying pan and continue to stir together quickly until the pasta is coated in it. (The reason you add the penne pasta to the frying pan is so that it absorbs the flavours from the bottom of the pan.)
5. Serve immediately and garnish with freshly cut parsley and more Parmesan cheese to taste. Enjoy!