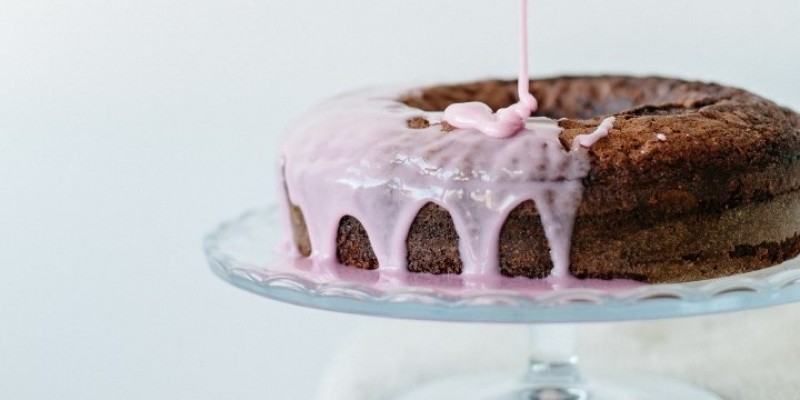 Category:
Pastries & Sweets
For the cake:
1.5 cups sugar
113g unsalted butter (room temperature)
2 eggs (room temperature)
1 & 1/3 cups Mitsides All Purpose Flour
very scant 1/2 cup excellent quality cocoa powder
1/2 tbs baking soda
1/4 tsp salt
3/4 cup sour cream
1/4 cup strained cooled Cyprus coffee (ensure no granules are in the coffee. Any brewed coffee is OK if you don't have Cypriot coffee.)
1/4 cup strained fresh pomegranate juice
 
For the glaze:
2-3 tbs strained fresh pomegranate juice
1 cup powdered sugar
1 tsp (or more) milk
1. Prepare your Cypriot coffee (or regular coffee) and let cool. Grease and flour a bundt pan and preheat the oven to 175C.
 
2. Cream butter and sugar well, add eggs one at a time mixing well to incorporate after each egg, and then add in vanilla.
 
3. In a separate bowl stir together your dry ingredients: flour, cocoa powder, baking soda and salt.
 
4. Add the dry mixture and sour cream to the butter and sugar mixture. Start with the dry mixture and alternate with the sour cream, ending with the dry ingredients.
 
5. Then slowly add the pomegranate juice and Cypriot coffee (don't add the bits of coffee at the bottom of the cup) or regular coffee. Stop when the mixture looks like a loose chocolate mousse – you may not need all of the pomegranate juice/coffee for this to occur.
 
6. Pour the mixture into the bundt pan and bake for about 40 minutes until a toothpick comes out clean.
 
7. Remove from the oven, let cool for ten minutes then remove for the pan and let cool completely before frosting.
 
8. Make the frosting: add the pomegranate juice and a 1 tsp milk to 1 cup of icing sugar until you reach desired consistency. I used about 3 tablespoons pomegranate juice and 1 teaspoon milk for 1 cup of icing sugar. Then place in the fridge for thirty minutes to thicken so that it gets that thick-glaze look when you pour it on top of the cake.
 
9. Glaze the cake and enjoy!