Red sauce pasta with cinnamon and cloves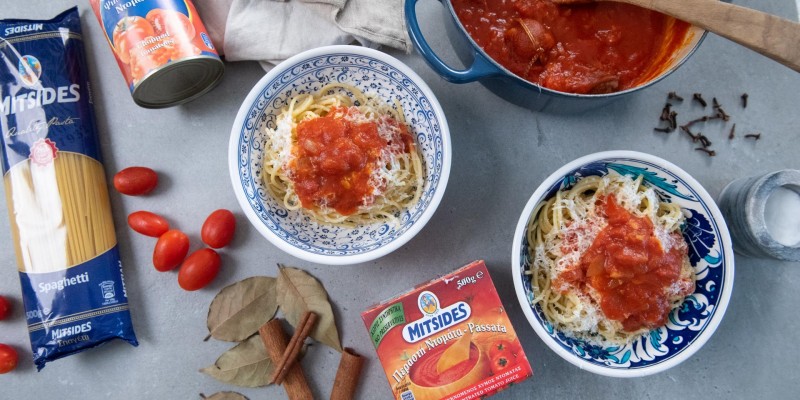 1 pack Mitsides Spaghetti
2 cubes Mitsides Bouillon for Pasta
1 can Mitsides Chopped Tomatoes (400g)
1 pack Mitsides Passata (500g)
1 cube Mitsides Vegetable Bouillon
2 garlic cloves, sliced
1 onion, chopped
1 cinnamon stick
7-8 cloves
1 bay leaf
¼ tsp sugar
dry anari or halloumi cheese
2 Tbsp olive oil
salt and pepper
In a medium sized saucepan add the olive oil and garlic and fry over medium heat until slightly crispy. Remove with a spoon, finely chop and set aside.
Add the onion to the pan and fry until softened. Add the tomatoes, cloves, cinnamon stick, bay leaf, sugar, vegetable cube, salt and pepper. Return the garlic back to the pan and cook over low heat for 15-20 minutes, stirring occasionally.
In the meantime, in a large saucepan with plenty of boiling water add the 2 bouillons cubes. When dissolved, add the pasta and cook following pack instructions. Drain and mix with the sauce. Add some grated anari or halloumi and serve.