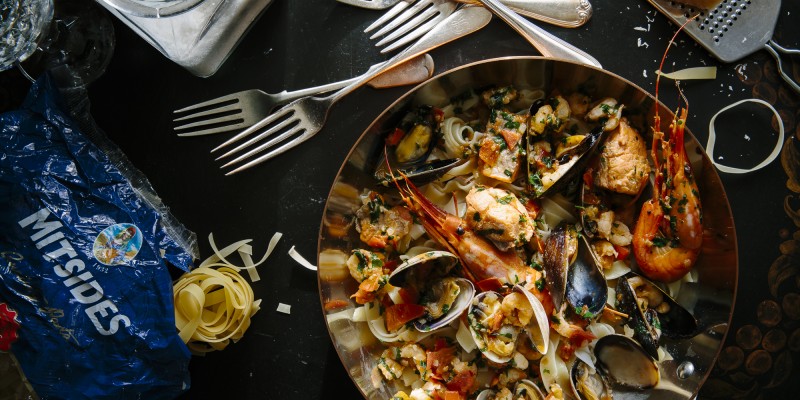 350g Mitsides Tagliatelle
3 garlic cloves, finely diced
1 shallot, finely diced
3 tablespoons chopped parsley
2 tablespoons chopped basil
pinch of hot red pepper flakes
3 tablespoons olive oil
1/3 cup white wine, local Cypriot wine is great but any variety is OK
4 large prawns
140 grams small shrimp
6 mussels (100 grams)
12 clams (250 grams), with or without shell
150 grams salmon fillet, (squid is OK if you prefer)
1. In a large pot filled with salted water, cook the pasta until al dente.
 
2. While the pasta is cooking, in a large pot add the olive oil and place over high heat. Saute the garlic, onions, red pepper flakes for two minutes. Add the tomatoes for 20 seconds. Season with salt and pepper to taste. Add the wine and let it evaporate for 2 minutes. Add the clams, large prawns and mussels and place a lid on top of the pot and let cook for 5 minutes, until the mussels and clams open up (they will only open up if using fresh clams and mussels). Add the salmon and the baby shrimp and cook for another 2 minutes with the lid on top of the pot. Add the basil and parsley.
 
3. Place the pasta in a large serving dish. Pour the seafood sauce all over the pasta. Serve garnished with freshly grated parmesan cheese and finely diced fresh parsley.