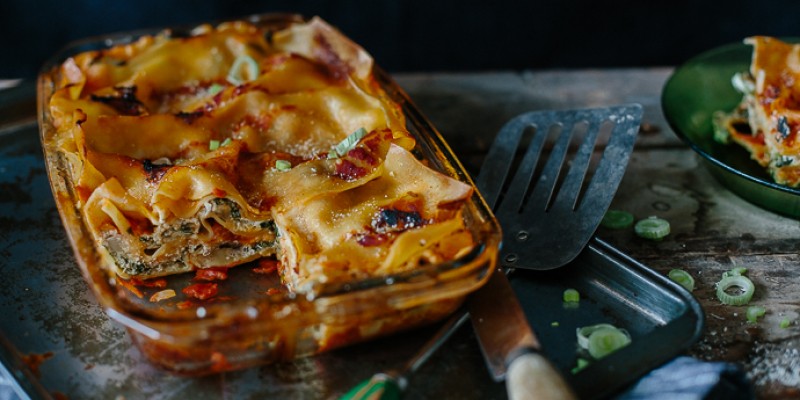 FOR THE LASAGNE AND FILLING
1 pack Mitsides Egg Lasagne
1 large bunch spinach (about 250 grams) chopped (ensuring the thick stems are cut away)
5 chopped button mushrooms (halved)
3 finely chopped small garlic cloves
1/2 cup finely chopped onion
1/2 cup finely chopped leek
250 grams ricotta cheese
3/4 cup parmesan cheese
1 egg
1 tsp dried basil
1 tsp dried oregano
salt and pepper to taste
chopped spring onion as garnish
FOR THE TOMATO SAUCE
2 cans Mitsides Chopped Tomatoes
3 chopped garlic cloves
1 chopped onion
1 tsp (heaped) brown sugar
FOR THE CHEESE LAYERS IN THE LASAGNE
1 to 2 cups grated mozzarella cheese
1 to 2 cups grated parmesan cheese
1. In a medium-hot frying pan, stir fry the garlic, onion and leek until translucent. Add the spinach, mushrooms and salt and pepper to taste. Once the spinach has wilted, place the spinach mixture in a colander in order to drain the liquid. Let rest and drain for about 10-15 minutes.
2. Prepare the tomato sauce. In a small saucepan, saute the garlic and onion. Once translucent, add the chopped tomatoes and brown sugar. Cook on low-medium heat for about 20 minutes.
3. In a large bowl, mix the ricotta, parmesan and egg. Add the spinach mixture and mix well with a fork.
4. In a shallow lasagne pan pour a generous amount of the tomato sauce to cover the bottom of the pan. Add a layer of lasagne. And spoon more tomato sauce on top of the lasagne covering it. (Spooning sauce on top of the lasagne ensures that it will cook in the oven.) Spoon half of the spinach mixture on top. Sprinkle a generous amount of parmesan and mozzarella cheese on top of the spinach mixture, covering it well. Then add a layer of lasagne, and more tomato sauce. Then add the rest of the spinach mixture covering it well with parmesan and mozzarella cheeses. Then pour a little more tomato sauce on top of this. Then add a final layer of lasagne, top with more tomato sauce and garnish with a little more mozzarella and parmesan cheese.
5. In a preheated oven bake at 175C for about 50 minutes to 1 hour until the lasagne is well cooked.