Syrupy Rosewater Semolina Cake (Modern "Kalo Prama")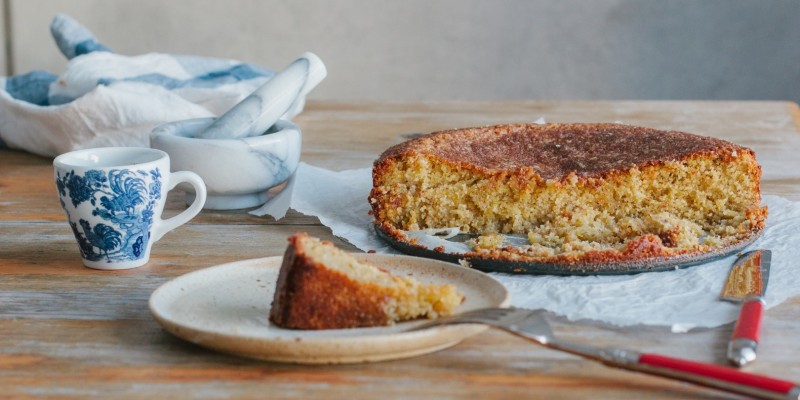 Category:
Pastries & Sweets
For the semolina cake
1 & 1/4 tsps cardamom
150g pistachios, shelled, plus extra to serve
95g ground almonds
5g ground hazelnuts
1 tbsp rose water
175g Mitsides Semolina
1 & 1/4 tsp baking powder
1/4 tsp salt
300g unsalted butter, at room temperature
325g caster sugar
4 medium eggs, lightly beaten
1 unwaxed lemon, grated zest, plus 1 tbsp juice
2 tbsp rose water
1/2 tsp vanilla essence
 
For the rose cream
100g Greek yogurt
100g crème fraîche
1/2 tbsp icing sugar
1/2 tbsp rose water
For the syrup
120ml lemon juice
100ml rose water
120g caster sugar
1. Line with baking paper and grease a round, 23cm, loose-bottomed cake tin. Preheat the oven to 170C.
 
2. Place the cardamom and pistachios in a food processor and grind to a powder.
 
3. Add the ground almonds, hazelnuts, semolina, baking powder and salt; pulse to mix and combine.
 
4. Beat the butter and sugar until pale and fluffy – about 5 minutes. Add the beaten eggs in 4 parts, incorporating each part well.
 
5. Add the egg in small amounts, incorporating it well.
 
6. Fold in the mixed dry ingredients, then the lemon zest, lemon juice, rose water and vanilla.
 
7. Pour the mixture into a lined tin, level it with a spatula and bake for about 50 minutes to 1 hour, until a toothpick comes out oily but dry.
 
8. During the last ten minutes while the cake is baking, place all the ingredients for the syrup in a small pan. Gently heat the syrup so that the sugar dissolves. Do not boil the syrup otherwise you may find that the cake will have a bitter taste to it. Once the sugar is dissolved, remove it from the heat.
 
9. Remove the cake from the oven and while it is still hot, pour most of the syrup (minus 4 tbsp) over top the cake to absorb the same. Allow the cake to cool and then take it out of the tin. (Note that when you pour the syrup on top of the cake it will appear as though it is "too much". It really depends how sweet you would like your cake. I thought that the cake was sweet, but enjoyable but I have a sweet tooth, so you may want to pour the half the syrup and then drizzle each individual slice with syrup to that person's preference.
 
10. Serve with a spoonful of the rose cream, which goes very nicely with the cake as it is a bit sour and tart and takes compliments the sweetness.