Tortelloni Salad with Ricotta, spinach and bacon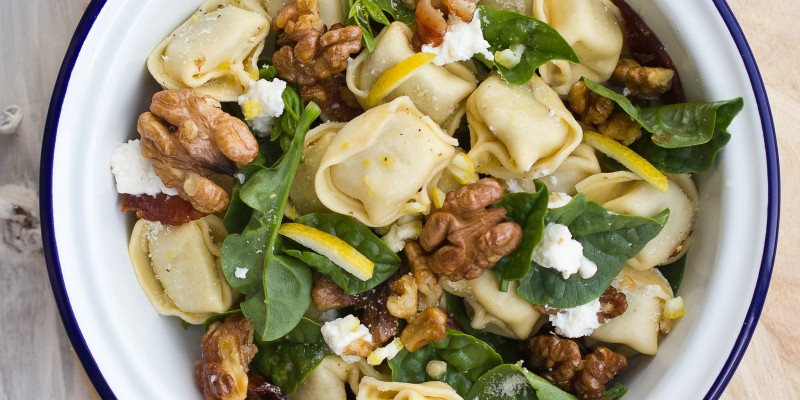 Category:
With Meat & Poultry
1 pack MITSIDES Spinach and Ricotta Tortelloni
2 rashers of lean back bacon
25g walnuts
Zest of ½ lemon and juice of 1 lemon
1 tbsp grated parmesan
1 tbsp olive oil
100g fresh baby spinach leaves
2 tbsp ricotta cheese
Salt & pepper to taste
1. Boil the tortellini according to pack instructions. When cooked, drain and cool under cold running water.
2. Meanwhile, preheat the grill and grill the bacon on a baking tray until golden and crisp at the edges.
3. When the bacon is almost ready, tip the walnuts on to the tray and toast a little. Remove from the grill and cut the bacon into strips.
4. In a large bowl, mix the lemon zest and juice, parmesan and olive oil. Pour in the spinach leaves, bacon, walnuts and tortellini.
5. Toss well, add the ricotta and toss gently again.
6. Season with salt and pepper to taste. You can add a bit more olive oil and parmesan if you like.