Wheat salad with lentils and spinach pesto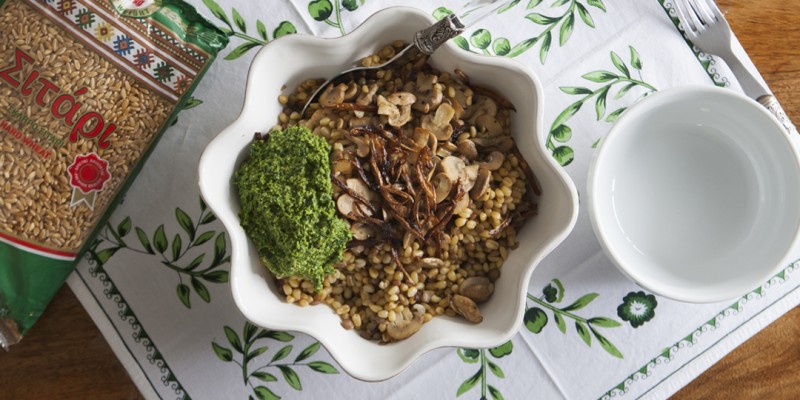 1 large cup Mitsides hard wheat kernels 250g (soaked overnight)
1 cup fine lentils
1 cup mushrooms, sliced
1 large onion, sliced
1 handful parsley, chopped
1/3 cup white wine
½ cup sunflower oil
For the spinach pesto:
1 bunch spinach leaves
1 garlic clove
1 handful walnuts, toasted
½ cup parmesan, grated
½ cup olive oil
Juice of ½ lemon
salt, pepper and chili flakes
Firstly, prepare all the ingredients.
Cook the soaked wheat in plenty of salted water for about an hour (or in a pressure cooker for 30 minutes). Cook the fine lentils in plenty of water for about 45 minutes until cooked but not too soft. In a frying pan add the sunflower oil and onions. Cook on low heat until onions have caramelized (15-20 minutes). Drain the onions, wipe the frying pan clean and sauté the mushrooms adding salt and pepper. When all the fluids have evaporated, add 1/3 cup white wine and cook until it has evaporated.
Meanwhile, make the pesto. In a food processor add the toasted walnuts, garlic and a pinch of chili flakes and pulse. Add spinach, parmesan, lemon juice, salt and pepper and blend until a smooth pesto forms. While the blender is working on low speed add the olive oil and mix until it is incorporated in the pesto.
Assemble your bowl. Add the wheat, fine lentils, mushrooms, onions and parsley and mix well. Add a couple of tablespoons of pesto and mix again. Serve in bowls, adding more pesto on top.