Baked Artichoke Pasta with Goat's Cheese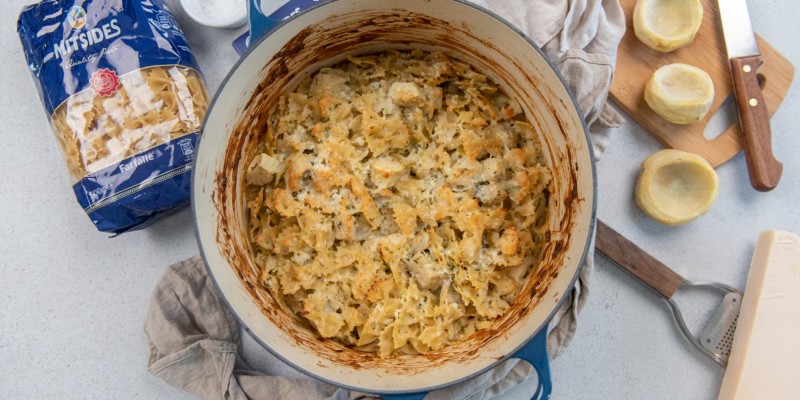 Category:
Oven Dishes
|
Vegetarian
1 pack Mitsides Farfalle
2 cubes Mitsides natural Bouillon for Pasta
6 artichokes, chopped
2 Tbsp olive oil
5 spring onions, chopped
2 onions, chopped
2 garlic cloves, chopped
¼ tsp red pepper flakes
1 cup cream cheese
170g goat's cheese
1½ cup grated mozzarella cheese
½ cup coriander, chopped
½ cup parmesan
Salt & pepper
Preheat the oven to 220°C. 
In a large saucepan with plenty of boiling water add the bouillon cubes. Once dissolved, add the pasta and cook following pack instructions. Once the pasta is ready, reserve 3 cups of its water and then drain.
In a large oven-proof skillet heat the olive oil and add the spring onions, onions and garlic. Cook for 3-4 mins until soft. Add the pepper flakes. Whisk in 1½ cup pasta water, cream cheese, goat cheese and keep whisking until smooth. Stir in the artichokes, the mozzarella and the coriander. Then stir in the cooked pasta. If needed add some more pasta water.
Sprinkle the parmesan cheese on top and bake in the oven for 10-20 mins.
Note: If your skillet is not oven-proof then transfer in an oven-proof dish and bake as above.