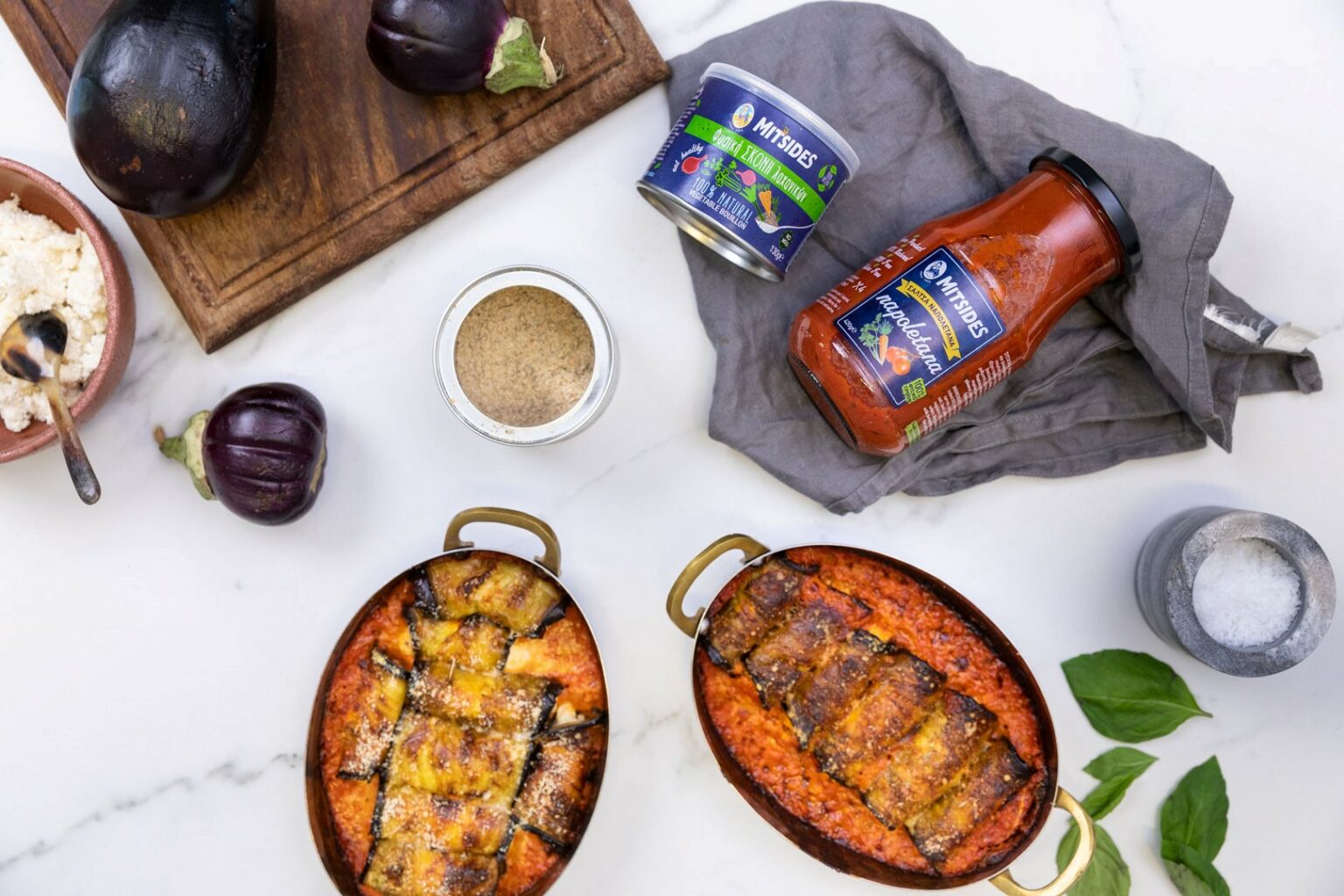 Category:
Oven Dishes
|
Vegetarian
2 medium eggplants
salt and pepper
olive oil for brushing
1 jar Mitsides Napoletana Sauce
¼ cup fresh cream
4 Tbsp grated parmesan
Parmesan shavings for serving
For the filling:
½ cupfresh or panko breadcrumbs
1 cup ricotta chese
grated zest of 1 lemon
½ tsp Mitsides Vegetable Powder
Salt
Preheat the oven to 180°C.
Cut the eggplants lengthwise into ½ cm thick slices. Line an oven pan with parchment paper and brush the paper with olive oil. Pour about 3 tablespoons of oil into a small dish and brush each eggplant slice with olive oil. Place the eggplants on the pan and season with salt and pepper. Roast for 10 minutes and then flip to the other side. Roast for another 8 minutes until golden. Remove from the oven and set aside.
Meanwhile, prepare the filling. In a bowl, mix together the bread crumbs, ricotta, lemon zest, vegetable powder and salt.
In a medium sized baking dish add ½ of the Napoletana sauce and the fresh cream and mix with a spoon until well mixed.
Take a slice of eggplant and at the top thinner side place a spoonful of the ricotta filling. Roll the slice around the filling and place it seam-side down in the dish on top of the tomato sauce. Continue until you use all slices. Brush olive oil on top and sprinkle the grated parmesan over the rolls. Bake for 25 to 30 minutes, until the edges of the sauce turn dark and the rolls are nicely caramelized. Top with some parmesan shavings  and serve.