Biscuits with oats and coconut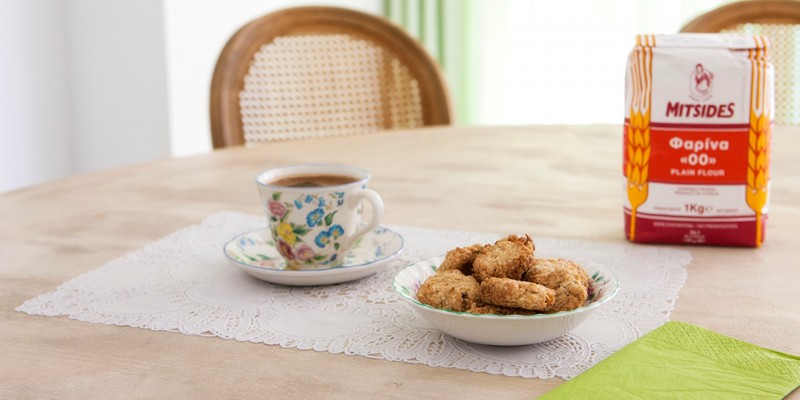 Category:
Pastries & Sweets
Some time ago I bought a huge pack of oatmeal and did not know what to do with it, until I  saw some recipes for oatmeal cookies on the internet. I thought of adding some coconut to make them more tasty and the result came out amazing! These biscuits are perfect to accompany your morning coffee or to offer to your friends at work when you celebrate!
250 g Mitsides Farina "00" (plain flour)
250g oat flakes (I used Jumbo Oats)
250g  coconut flakes
200g raw brown sugar 
150g unsalted butter
2 tablespoons maple syrup
6 tablespoons water
Preheat the oven to 180°C. 
Grease and line two oven trays with greaseproof paper.
Put the butter and maple syrup in a small saucepan (I used the coffee pot) and heat gently until butter melts.
In large plastic bowl, mix all of the dry ingredients (flour, oats, coconut, sugar), then add the butter and water. Mix and shape into balls of approximately 3cm diameter. Place them in line on the pan and press them down with a fork to shape them into biscuits.
Bake in oven for 10-15 minutes.