Cannelloni with artichoke and spinach filling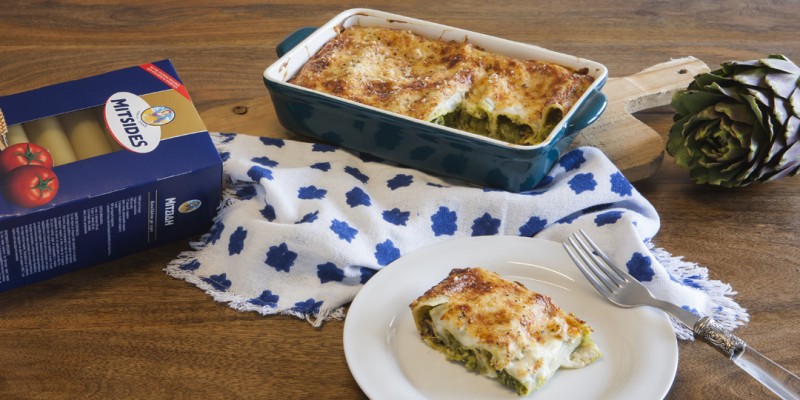 10 pieces Mitsides Canelloni
For the artichoke filling:
1 cup frozen artichokes, defrosted & drained
1 cup fresh spinach leaves
1 garlic clove
1 cup parmesan cheese
¼ cup milk
½ cup mayonnaise
a pinch of cayenne pepper
salt and pepper
For the béchamel cream:
3 Tbsp butter
3 Tbsp Mitsides Plain flour
2-3 cups lukewarm milk
salt, pepper and grated nutmeg
*You will need an oven proof dish with dimensions 24 x 15 cm. If your dish is larger you can increase the quantity of your ingredients
Preheat the oven to 180 C.
Firstly, make the artichoke filling. In a food processor, add the garlic, artichokes and spinach and blend until roughly chopped. Transfer in a bowl and add parmesan, milk, mayonnaise, salt, pepper and cayenne pepper. Mix it all together and set aside.
Make the béchamel. In a medium size saucepan heat the butter and gradually add the flour, stirring constantly. Gradually add the milk, salt, pepper and grated nutmeg. Bring to a boil and continue stirring until the cream thickens.
Apply a thick layer of béchamel at the bottom of your dish. Fill the cannelloni with the artichoke mix using a piping bag. Place the cannelloni in the dish side by side. When you can filled up the dish, add the remaining béchamel on top and cover all sides. Add some grated parmesan cheese and some pepper and bake in the oven for about 45 minutes.