Carrot cake with mascarpone cheese frosting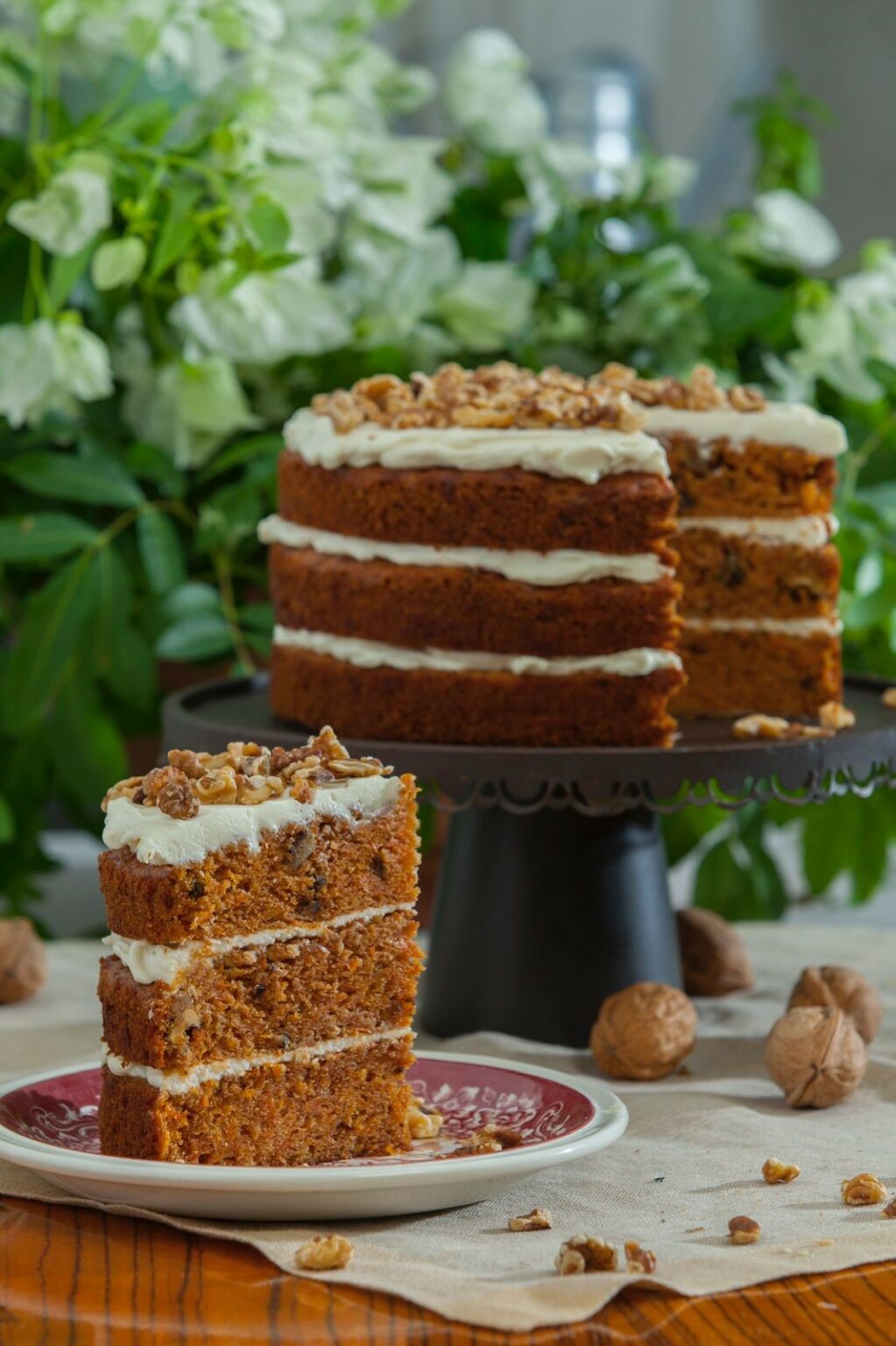 Category:
Pastries & Sweets
110g walnuts, chopped
320g Mitsides Plain Flour
1½ tsp baking powder
1 tsp baking soda
1 tsp salt
2 tsp cinnamon
300g granulated sugar
100g brown sugar
250ml sunflower oil
60ml olive oil
4 large eggs
2 tsp vanilla extract
Zest from 1 orange
300g carrots, peeled & coarsely grated
1 apple, peeled & coarsely grated
For the frosting
250g Mascarpone cheese
80g icing sugar
1 tsp lemon zest
1 tsp vanilla extract
250ml fresh cream
You will need 2 round pans of a 22cm diameter. Butter their base and cover it with baking paper. Butter and flour the paper. (Not necessary if using disposable paper baking pans).
Preheat the oven to 175°C. Place the walnuts on a baking tray. Roast them for 5-6 minutes until fragrant and slightly browned. Let them cool.
Sift the flour with the baking powder, soda, salt and cinnamon.
Place the granulated and brown sugar, sunflower oil and olive oil in a mixer bowl and beat on high speed to mix. Add the eggs and vanilla and continue beating until well combined. Pour in the orange zest and beat again. Add the flour mixture to the bowl and beat on low speed until the ingredients are just incorporated. Add the carrots, apple and walnuts and mix with a spatula until everything is combined.
Divide the dough between the 2 pans. Bake in the preheated oven for 35-40 minutes. Remove the pans from the oven and run a small spatula around the cakes to loosen them from the sides. Invert the cakes onto 2 flat plates. Remove the non-stick paper from their base and flip the cakes over and allow to cool completely.  If you are planning to frost them the next day, wrap the cooled cakes in plastic wrap and refrigerate.
Prepare the frosting. Put all the ingredients in the mixer bowl and beat for about 1 minute until the mixture starts to thicken. Do not over beat. Stop the mixer when the mixture is thick enough to spread.
Place one cake on a serving platter. Spread a little less than half of the frosting on top. Place the other cake on top and cover the entire surface with the remaining frosting. Decorate the cake as you like and chill it in the fridge for at least 2 hours before serving.
Note: You can make your cake three-tiered, using 3 smaller pans and dividing your dough and frosting accordingly.