Casarecce with pistachio pesto and pancetta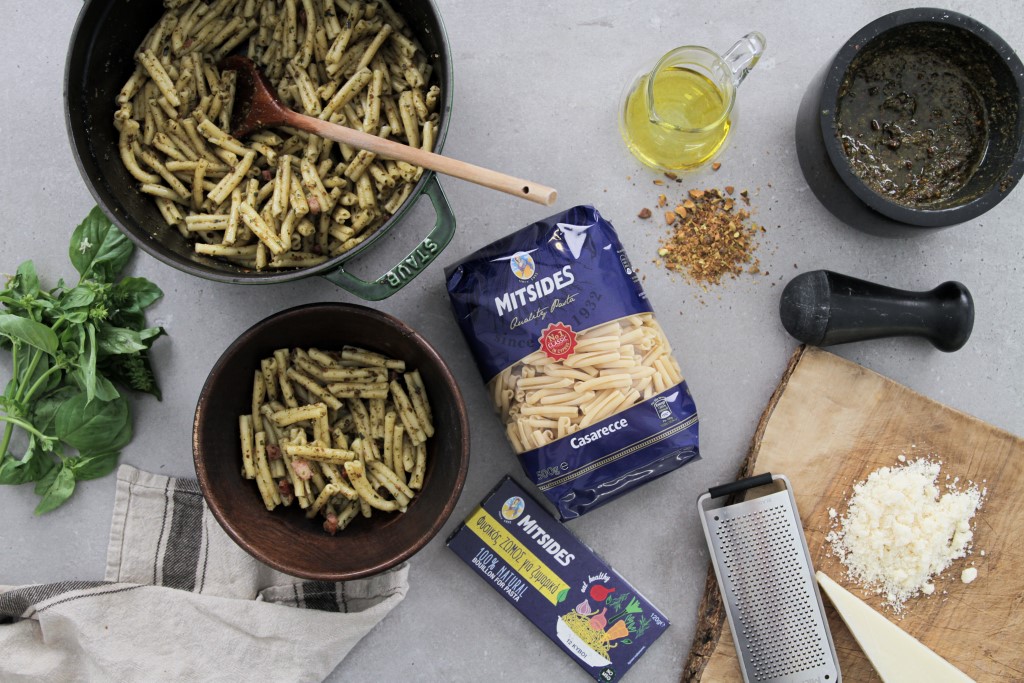 1 pack Mitsides Casarecce pasta
2 cubes Mitsides Bouillon for Pasta
90g deshelled pistachios
2 garlic cloves
130g pancetta cubes
200ml olive oil
40 g basil leaves
40g pecorino cheese, grated
Preheat the oven to 180°C. Lay the pistachios in a single layer on a flat oven tray and place them in the oven for 6-8 minutes. Let them cool.
Meanwhile, heat a small frying pan and cook the pancetta until golden brown. Set aside.
In a food processor (i.e Thermomix) pulse the pistachios with the garlic. Then add the basil and pulse again. Keep pulsing while slowly adding the olive oil. Add the pecorino cheese and blend slowly so that the cheese incorporates into the pesto. Add salt and pepper to taste.
In a large pan with boiling water, add the bouillon cubes. Once dissolved, add the casarecce pasta and cook following pack instructions until al dente. Reserve ½ cup from the pasta water and mix it with the pesto to loosen it. Drain the pasta, add the pesto and pancetta and mix well. Serve with more grated pecorino cheese.