Cheese Tortellini with Creamy Butternut Squash Sauce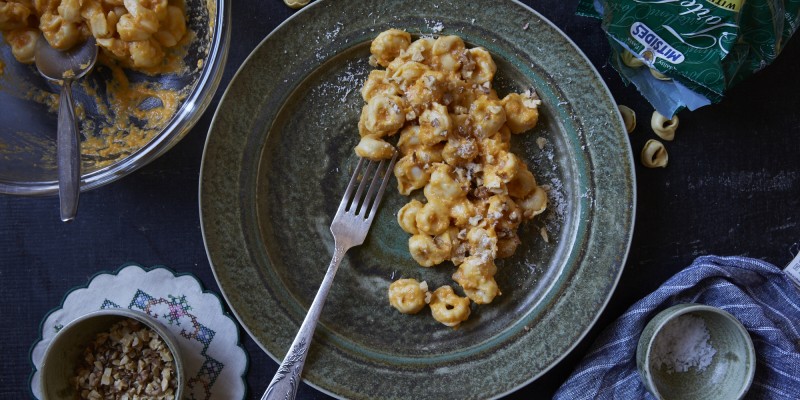 1 pack Mitsides Cheese Tortellini (250g)
A drizzle of olive oil, salt and pepper
1 ½ cups yellow squash, (the type used to make "kolokotes" in Cyprus, or any other yellow squash)
⅓ cup plus 1 tablespoon milk
½ onion, finely diced
2 garlic cloves, finely diced
1 tablespoon butter
2 tablespoons olive oil
salt and pepper
¼ cup grated parmesan cheese
A pinch of nutmeg
1. Preheat the oven to 175°C. Chop the butternut squash into small pieces. Drizzle with a little olive oil, salt and pepper. Roast for 15 minutes, turning the pieces once.
 
2. Remove the squash from the oven. Let slightly cool. Place squash in a food processor, add the milk, and puree until smooth.
 
3. In a frying pan over high heat on the stove, add the butter and olive oil. Once hot, add the onion and garlic. Stir fry until soft.
 
4. Add the squash puree, nutmeg, parmesan cheese and salt and pepper to taste. If the sauce looks a bit thick, add a little more milk. If the sauce looks a bit runny, just continue to cook until it thickens.
 
5. Boil the cheese tortellini until ready in salted water. Strain the cheese tortellini and toss it together with the sauce. Serve with grated parmesan cheese on top.