Cheese Tortellini with roasted Eggplant and Cherry tomatoes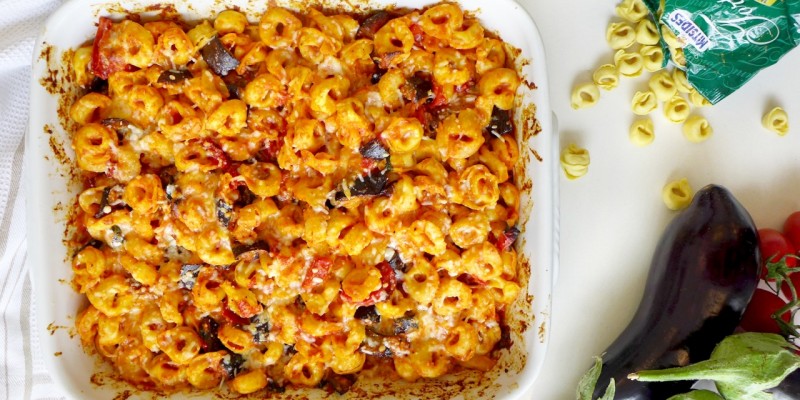 For the roasted vegetables
2 medium-large eggplants, diced in small, bite size cubes
15 cherry tomatoes, halved
¼ cup olive oil
1 garlic clove crushed
Salt and pepper to taste
For the pasta
2 X 250 grams pack "Mitsides" cheese tortellini
2 Tbs olive oil
2 cloves garlic, crushed
½ cup white wine
1 x 200 grams "Mitsides" tomato passata
1 x 70 grams "Mitsides" tomato paste
1 tsp sugar
5-6 fresh basil leaves
2 Tbs cream
Salt and pepper to taste
1 cup mozzarella cheese, grated
4 Tbs Parmesan cheese, grated
Preheat oven to 200 C. Put diced eggplants and cherry tomatoes (cut side up) in a baking tray. Mix the olive oil with the garlic and drizzle on top of the veggies. Season with salt and freshly ground black pepper. Bake for 35-40 minutes, stirring once, until nicely roasted. Leave the oven on and lower the heat to 175 C.
Bring a large pot of water to boil. Season water with salt and add the tortellini. Boil for 16-18 minutes, until cooked through. Drain and keep some of the cooking water.
Heat the olive oil in a frying pan over medium heat. Add the chopped garlic and cook 30 seconds, until fragrant. Add the wine and let it evaporate for a couple of minutes. Add the tomato passata, tomato paste, sugar and basil leaves and mix well. Lower the heat and simmer for 1-2 minutes until thickened. Add the cream, season with salt and pepper and remove from heat.
Assemble the dish. Put drained tortellini in a baking dish and mix with the tomato sauce. Add the roasted eggplant and cherry tomatoes, the mozzarella cheese and 1/3 cup of the tortellini cooking water. Mix everything well together. Sprinkle with the Parmesan and bake in the preheated oven for 10 minutes, until the cheese has melted. Serve at once.