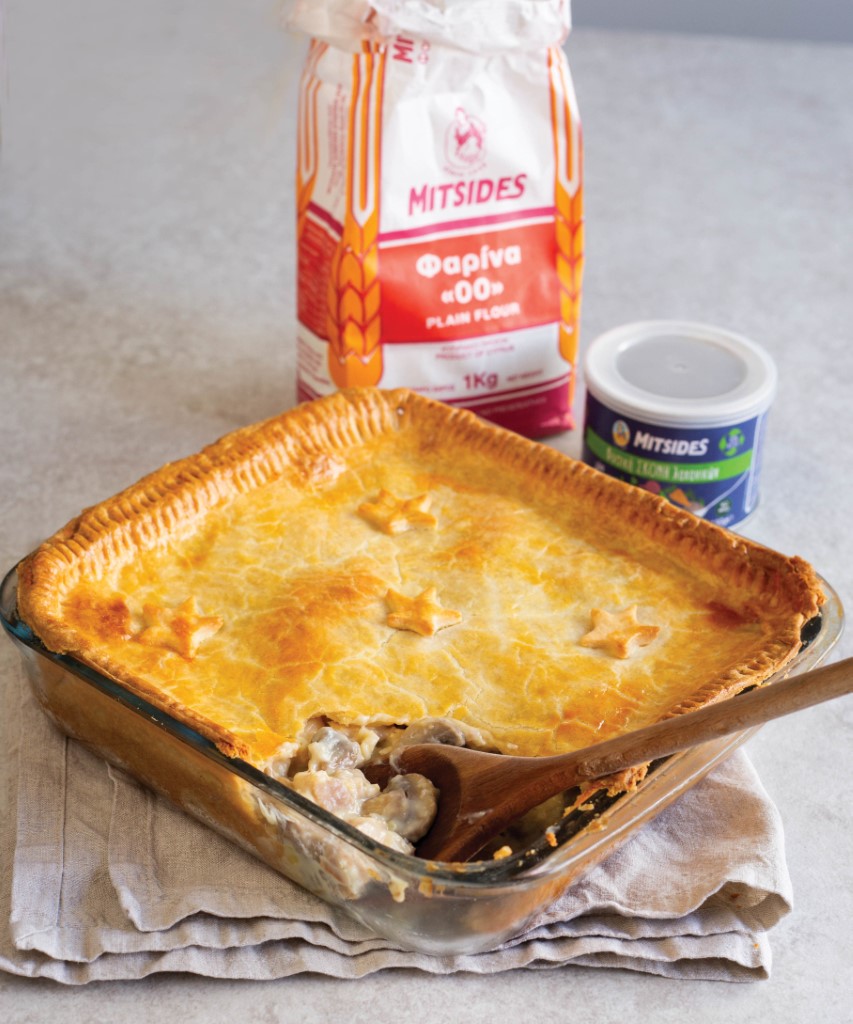 For the dough:
250g Mitsides Plain Flour
3 Tbsp yogurt
150g unsalted butter, diced
For the filling:
3 pieces chicken fillets
1 tsp paprika
1 tsp Mitsides Vegetable Powder
½ tsp pepper
5 pieces lountza (smoked pork loin), chopped
1 Tbsp butter
1 large onion, chopped
1 tsp dried thyme
6 Tbsp Mitsides Plain Flour
1 cup boiling water mixed with 1 cube Mitsides Chicken Bouillon
1½ cups whole milk
1 leek, sliced
3 cups mushrooms, sliced
Juice of ½ lemon
1 egg, whisked (for brushing)
Salt and pepper
Olive oil
Preheat the oven to 200°C. Place the chicken in a pyrex and add 2 Tbsp olive oil, paprika, vegetable powder and pepper. Rub the ingredients on the chicken and bake in the oven for 20 minutes until cooked. When ready, cut the chicken in cubes.
To prepare the dough, in a food processor pulse together the flour with the butter. Add the yogurt and pulse again. Divide the dough into 2 balls, wrap in cling film and keep in the fridge for 15 minutes.
To prepare the filling, in a large and deep frying pan heat 3 Tbsp olive oil with the butter. Add the lountza, leek and onion and cook for 3 minutes. Add the mushrooms and cook until liquids have been absorbed. Add salt and pepper, thyme and flour to the pan. Stir well so that the mushrooms are coated in flour. Gradually add the chicken stock while stirring. Gradually add the milk and continue to stir until it starts to bubble. Continue to stir to avoid lumps until the mixture thickens. Take off the heat, add the lemon juice and the cooked chicken and mix well.
Roll out the dough. Place one dough sheet at the bottom of a slightly greased square baking dish (about 25cm X 25cm) making sure that the sides of the dough are slightly hanging out. Brush the edges with egg. Add the filling spreading it evenly with a spoon. Place the second dough sheet on top and pinch the edges with a fork to seal. Brush with more egg and cut out the hanging parts with a knife. Place in the middle of the oven and bake for 25 minutes until golden brown on top.