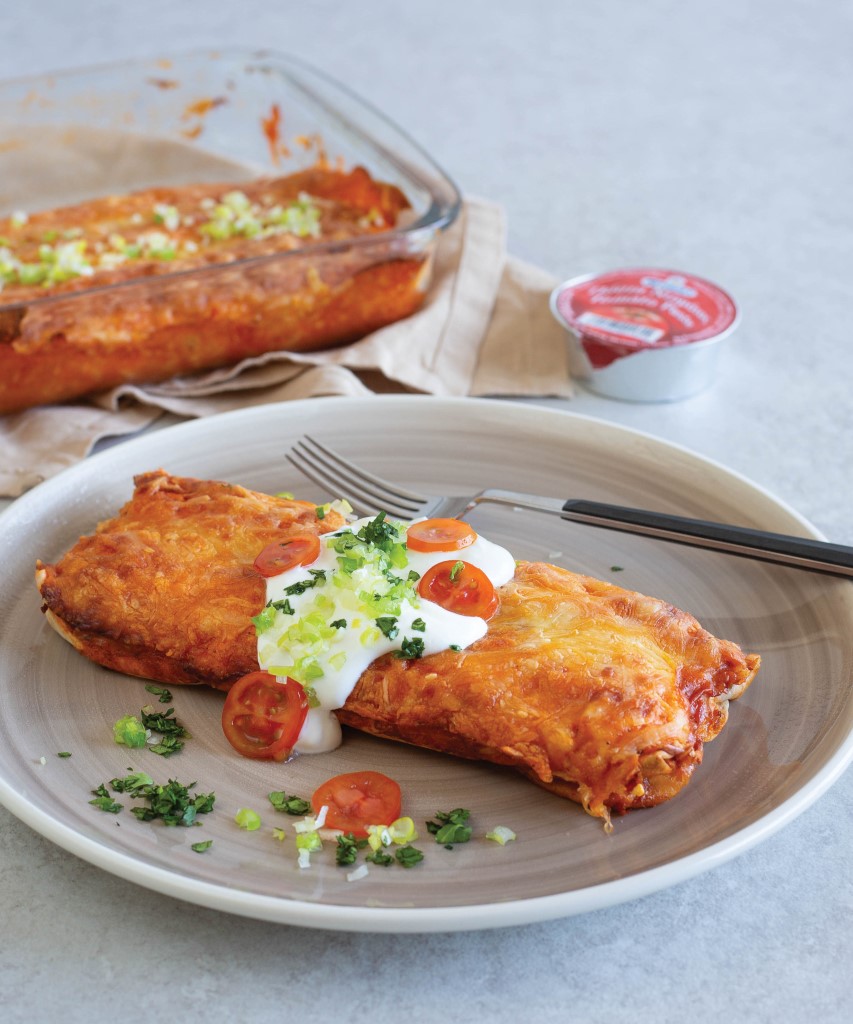 1½ cups cooked chicken, shredded
8 flour tortillas
2 cups cheese that melts, grated
Sour cream to serve
2 cups enchilada sauce
For the enchilada sauce:
2 Tbsp Olive oil

2 Tbsp Mitsides All-purpose Flour

2 tsp chili powder

½ tsp garlic powder

¼ tsp ground cumin

¼ tsp smoked paprika

¼ tsp dried oregano

½ tsp salt

2 cups boiling water mixed with 2 cubes Mitsides Chicken Bouillon.

2 packs Mitsides Tomato Paste (2 X 70g)

Salt and pepper
Preheat the oven to 180°C.
To prepare the sauce: In a medium sized pot, heat the olive oil and add the flour. Whisk for a few seconds and then add the chili powder, garlic powder, salt, cumin, smoked paprika and dried oregano. Whisk for a few more seconds. Slowly pour in the chicken broth while whisking. Add the tomato paste and continue whisking until smooth. Simmer for a few minutes until thickened and then set aside.
In a large bowl, combine the shredded chicken with ¾ cup of the enchilada sauce. To assemble the tortillas, place a vertical strip of chicken in each tortilla. Top with a bit of grated cheese and roll tightly to close.
Place them on a baking tray with the seam side down. Pour the remaining sauce over the tortillas and top with grated cheese. Bake for about 20 minutes until the cheese has melted and tortillas turn golden brown. Serve with the sour cream.
Note: For the chicken, an easy and tasty solution is to use a rotisserie chicken.