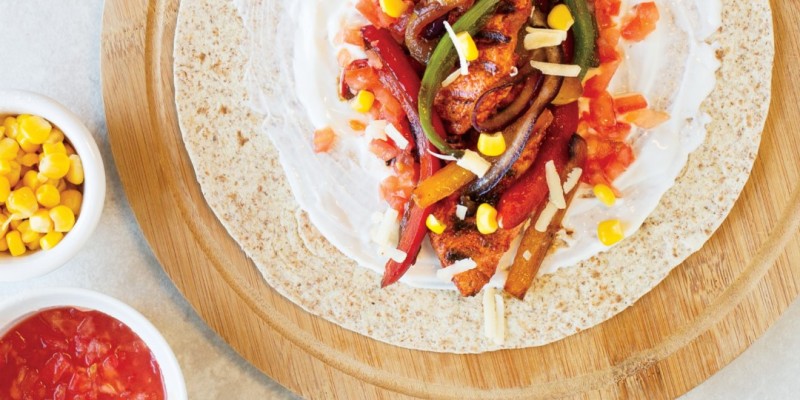 Ingredients
500g chicken breasts, cut in strips
1 pack whole meal tortilla wraps
1 red pepper, cut in strips
1 yellow pepper, cut in strips
1 red onion, thinly sliced
1 tsp Mitsides vegetable powder
1 Tbsp Soy sauce
Olive oil
For the chicken marinade:
2 tsp fajitas spice mix *
1 Tbsp Mitsides Tomato Paste
2 Tbsp olive oil
2 Tbsp lemon juice
 
For the guacamole sauce:
2 ripe avocados, peeled and mashed with a fork
1/3 cup tomatoes, finely chopped
2 Tbsp onion, finely chopped
3 Tbsp fresh coriander, finely chopped
2 Tbsp lime or lemon juice
salt and pepper
 
Toppings:
yogurt
cheddar cheese, grated
sweetcorn
chopped tomatoes
Mix all chicken marinade ingredients in a large bowl. Marinate the chicken for at least 30 minutes, or preferably leave it to marinate overnight in the fridge.
 
Heat a griddle pan and add the chicken strips. Cook each side for 2-3 minutes until completely cooked. Set aside. Wipe the pan clean, add a splash of olive oil and add the peppers and onions.  Add the vegetable powder and soy sauce and cook until softened.
 
In a bowl, mix all ingredients for the guacamole.
To assemble the tortillas, spread some yogurt and guacamole, add the chicken strips and top with the cheese, corn and chopped tomatoes. Fold both sides to create a wrap and enjoy!