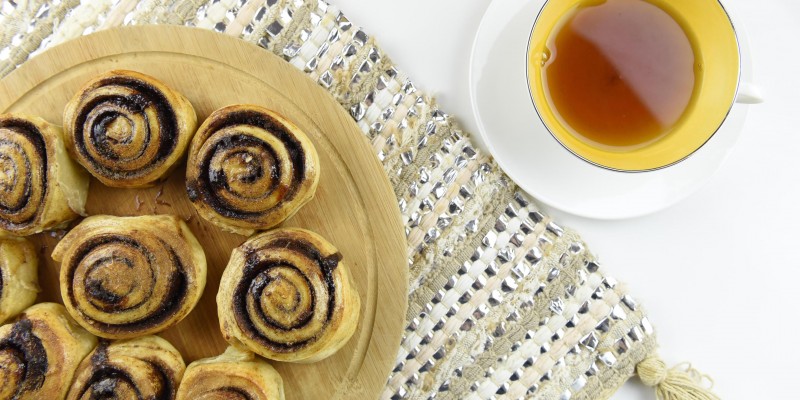 Category:
Oven Dishes
|
Pastries & Sweets
125ml milk
100g unsalted butter
2 tsp dried yeast
50g caster sugar
550g plain flour, sifted, plus extra for dusting
1 tsp salt
1 egg &  2 egg yolks, whisked
vegetable oil, for greasing
For the filling and glaze: 
3 Tbsp cinnamon
100g soft light brown sugar
25g unsalted butter, melted
1 egg, lightly beaten
4 Tbsp caster sugar
In a pan, heat the 125ml water with the milk and butter until just melted. Let it cool. When it is just warm, add the dried yeast and a tablespoon of sugar, mix and cover for 10 minutes.
In a bowl, add the flour, salt and remaining sugar. Make a well in the centre and pour in the warm mixture. Add the whisked eggs and combine to form a dough. Place the dough on a floured surface and knead for about 10 minutes. Add extra flour if it's too sticky.
Put the dough in a bowl, cover with cling film and let it sit in a warm place for 2 hours. 
In the meantime, prepare the filling by mixing two tablespoons of cinnamon with 70g of the brown sugar. When the dough has risen, put it back on the floured surface and roll it out to a rectangle of about 40cm x 30cm. Brush with the melted butter and scatter with the cinnamon filling, leaving a 1cm border on one side. Brush the border with the egg.
Press the filling with the palm of your hand to ensure that it has stuck on the dough. Roll the dough up working towards the 1cm border. Do not roll it tightly. With a bread knife, cut into 10-12 equal pieces. In a greased tin pack the rolls, cover and let rise for 1-2 hours.
Preheat the oven to 180°C, brush with the egg and bake for 30 minutes. Heat 3 tablespoons of water and stir in 2 tablespoons of sugar until it dissolves. Brush the glaze of the rolls. Sprinkle over the mix of remaining caster sugar and cinnamon.