Creamy Vegan Pumpkin Tagliatelle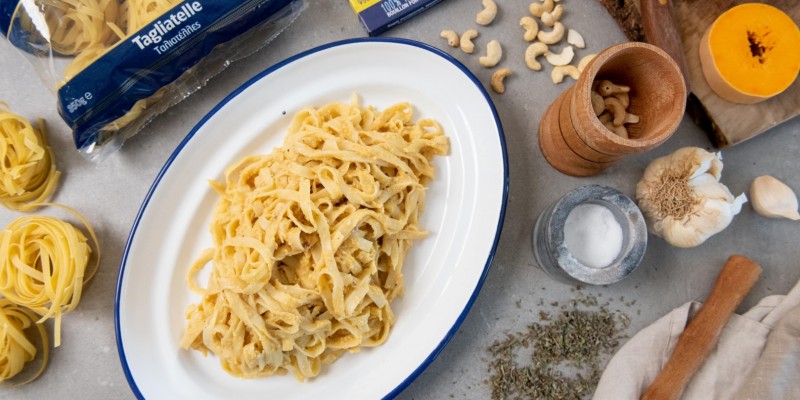 1 pack Mitsides Τagliatelle (350g)
1 cube Mitsides Βouillon for Pasta  
1 medium pumpkin, peeled and cut in cubes
3 shallots, halved
3 garlic cloves, peeled
1 tablespoon olive oil
¼ teaspoon dried sage
⅛ teaspoon ground nutmeg
½ teaspoon salt
¼ teaspoon freshly ground pepper
1 cup vegetable broth
½ cup raw cashews, soaked for 30 minutes
Preheat the oven to 200°C. Mix pumpkin, shallots and garlic with olive oil, sage, nutmeg, salt and pepper. Place on a baking or roasting sheet and roast for 25-30 minutes until pumpkin is very tender.
While the pumpkin is cooking, bring a large pot of salted water to a boil and add the bouillon cube. When dissolved, add the tagliatelle and cook following pack instructions. Drain and reserve 1-2 cups of pasta water.
Place the roasted pumpkin mixture into a blender along with 1 cup of the vegetable broth and cashews. Puree until silky and smooth. Taste for seasoning, adding salt and pepper if needed. The mixture should have the consistency of a thick sauce.
 Add the pureed mixture to the pasta along with a splash of pasta water. Toss, adding more pasta water as needed.