Crunchy Thai Peanut & Quinoa Salad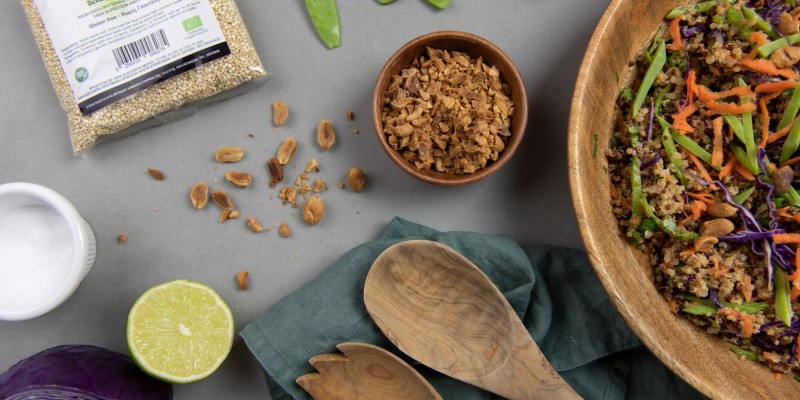 ¾ cup Mitsides White Quinoa
¼ cup Mitsides Red Quinoa
2 cups water
2 cups purple cabbage, thinly sliced
1 large carrot, grated
1 cup snap peas, sliced
½ cup coriander, chopped
¼ cup spring onion, green parts included, chopped
¼ cup chopped roasted and salted peanuts, for garnish
 
Peanut sauce
¼ cup smooth peanut butter
3 tablespoons light soy sauce
1 tablespoon maple syrup or honey
1 tablespoon rice vinegar
1 teaspoon toasted sesame oil
1-2 teaspoons grated fresh ginger (I love ginger so I used 2 teaspoons)
½ lime, juiced (about 1½ tablespoons)
Pinch of red chilli pepper flakes
Cook the quinoa: First, rinse the quinoa under running water. In a medium sized pot, combine the quinoa and 2 cups water. Bring the mixture to a gentle boil and gently simmer the quinoa until it has absorbed all of the water. Remove from heat, cover and let it rest for 5 minutes. Uncover the pot and fluff the quinoa with a fork. Set it aside to cool.
Meanwhile, prepare the peanut sauce: Whisk together the peanut butter and soy sauce until smooth. Add the remaining ingredients and whisk until smooth. If the mixture seems too thick to toss into the salad, whisk in a bit of water to loosen it up.
In a large serving bowl, combine the cooked quinoa, shredded cabbage, carrot, snow peas, coriander and green onion. Toss to combine, then pour in the peanut sauce. Toss again until everything is lightly coated in sauce. Taste, and if it doesn't taste quite amazing yet, add a pinch of salt and toss again. Divide into individual bowls and garnish with peanuts.